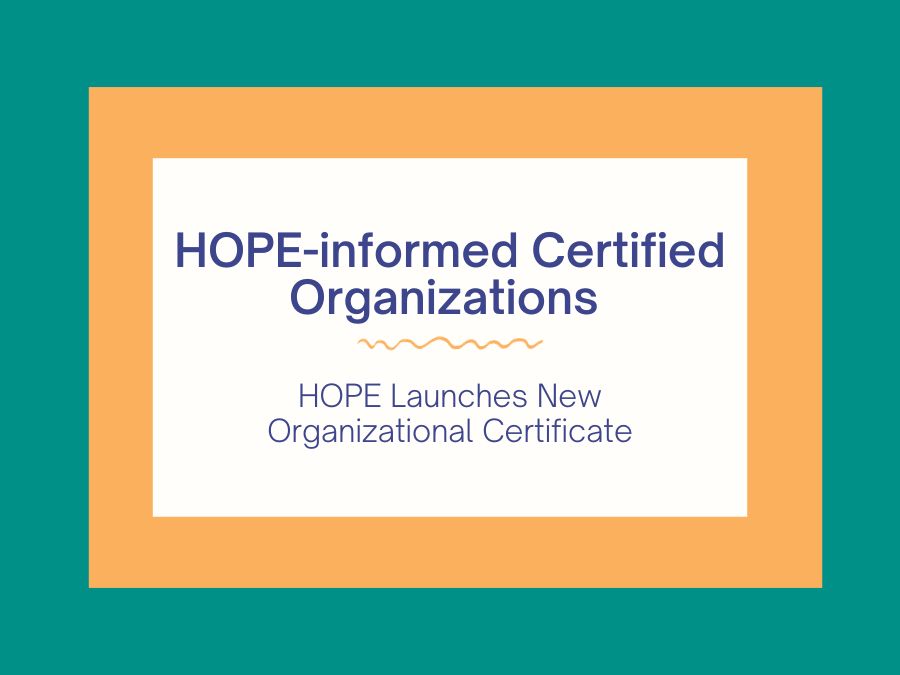 Apply to become a HOPE-Informed Certified Organization
The HOPE National Resource Center has launched the HOPE-Informed Organizational Certification program. By becoming certified as a HOPE-Informed organization, you will be publicly recognized as an organization that is actively committed to practicing the HOPE framework and promoting equitable access to positive childhood experiences (PCEs) for the children, families, and communities you serve. The program provides the structure, tools, training, and technical assistance needed to enable your organization to successfully implement and sustain your journey of change, from securing leadership support to implementing new processes to measuring outcomes.
How to start your HOPE-Informed journey
To become a HOPE-informed organization, you will need to submit an application. Before you apply, your organization will need to identify a HOPE Champion. This person will have gone through both the HOPE Facilitator program and the HOPE Champion program where they learn how to provide training and technical assistance. The Champion can be someone within your organization or a consultant outside your organization. Over two years, the Champion and members of the HOPE National Resource Center will work with your organization to implement the HOPE framework throughout your practice with children and families as well as on the organizational level.
How is the HOPE-Informed Certification different from other HOPE programs?
The HOPE-Informed Organizational Certification is different from our other HOPE programs because we are working directly with organizations on changes that will involve the entire organization, from interactions with children, youth, and families to the structure of leadership and supervision. Your organization will go through the Six Standards of HOPE and assess your current practices. Throughout the two years, you will work to improve practices and make changes that align with the HOPE framework and promoting positive childhood experiences.