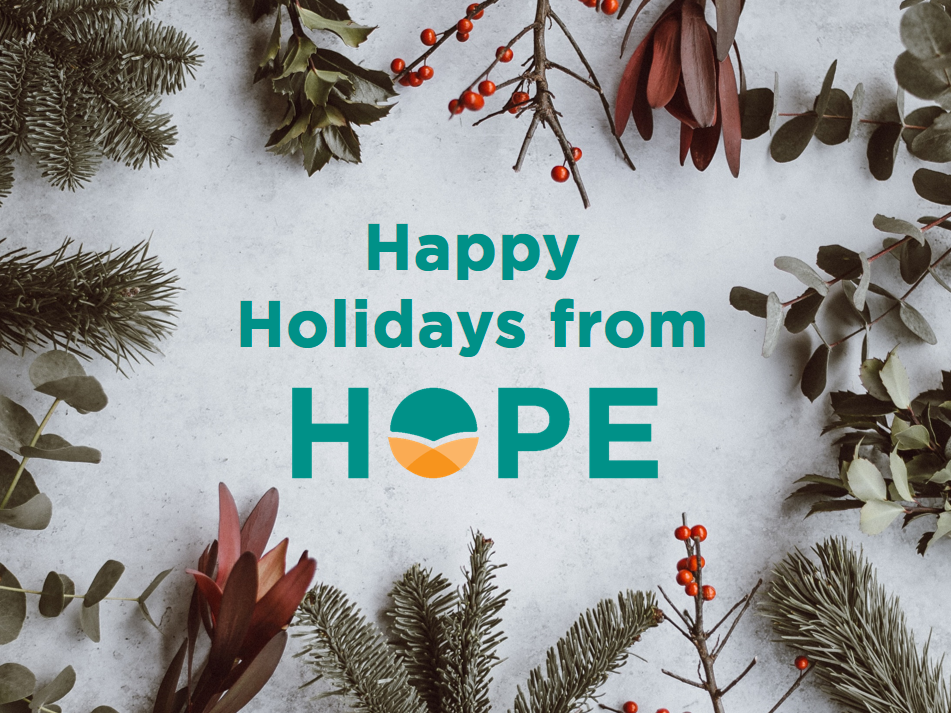 We wish everyone a relaxing and rejuvenating holiday season! Whatever traditions or beliefs your families hold, this is the time of year when many of us can pause, reflect, and celebrate that the long nights of winter are already getting shorter.
Over at the HOPE National Resource Center, we have been thinking about everything we have heard, seen, and read in our personal and professional lives. Children's experiences form the center of our work. In that spirit, here are a few thoughts on how parents and other adults can help children make sense of the past year – and how caretakers can help children feel the love of the holiday season. Childhood experiences last a lifetime, so let's try and bring out some positive memories!
Many parents now have closer relationships with their children, from spending so much time together and helping with their kids' educations as many schools went virtual. If that is the case for you, consider talking letting your children know and including this experience in your celebrations. These feelings of closeness actually result in brain changes and healing.
Every child should know that they are a blessing, not a burden. Reminding them of this truth, despite the difficulties of everyday life this past year, can help children form positive memories. Begin by recognizing that children have experienced the hassles of being at home instead of school, acted out from boredom or frustration, and seen how the adults in their lives are feeling stressed. Provide the love needed to allow children to express these feelings.
Honor the role that children have played in keeping others safe. Children have sacrificed by missing school, camp, and activities, and they have not been able to play with their friends. The reason for these sacrifices is simple – Covid-19 spreads easily, and these restrictions helped protect the elderly, those with chronic illnesses, and many who might have gotten sick or died. Recognition of their own civic engagement connects children to the rest of society, a lesson that they can carry with them in life.
Make this year's holidays memorable. Perhaps enlist children's help in adapting your family traditions to the current circumstances or create new traditions that fit the times. Children are often more savvy at technology and can help grandma and grandpa get Zoom to work on their computers.
Engage children to reflect on this past year: what were the strangest / most surprising / funniest moments of 2020?  Encourage them to remember a time when they helped someone or were helped. Think of something that made them laugh, something that made them cry. Did a friend or family member die during the pandemic? Maybe sharing a few stories about that person, or reaching out to others who also felt the loss, might help in coping with grief and growing closer together.
In addition to the pandemic, 2020 also saw many more Americans responding to long-standing issues of health equity and racial justice, with well-publicized instances of police brutality sparking new momentum for anti-racism. There were demonstrations of support for Black Lives Matter in all 50 states. Many children and youth got involved, had family members or friends involved, and had difficult conversations with their parents about race and racism (click here for a blog post on how to talk with children about race). Take some time with your child to reflect on the importance of this civic engagement.
We can never do enough to reassure children that they and their families are safe. In this time, it can be hard to separate real fears and experiences from what they may be seeing on social media and from other sources. Reassure children that they are safe and the chances of their parents becoming seriously ill or dying are small—parents of young children who are frontline workers may especially want to reassure children of their safety. At the time of this writing, federal eviction protections have been extended, and some help is on the way to continue economic support for unemployed parents. All of us need to continue to demand that children's basic needs are met.
Finally, children should know that now, with a vaccine available, 2021 promises to be better – less illness, fewer deaths, and maybe even more reasons for hope.
From all of us at the HOPE National Resource Center, thanks for helping with HOPE's amazing growth in 2020. Happy holidays, and we look forward to continuing to learn and grow together in 2021. 
Click here for a post on the Prevent Child Abuse America blog, authored by Drs. Robert Sege and Melissa Merrick, which details the importance of creating positive experiences this holiday season.
Photo in graphic by Annie Spratt on Unsplash