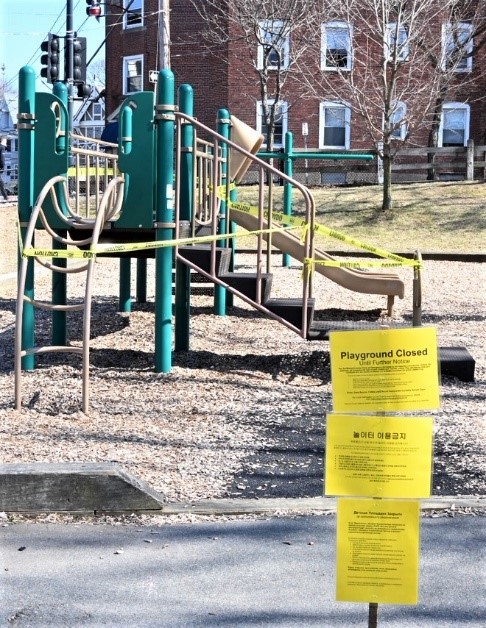 Another week into the pandemic, we are slowly adjusting to a new reality. We are all wondering how long precautions and closures will last. This blog focuses on one of the building blocks of HOPE – safe, stable, and equitable environments for children to live, learn, and play.
The coronavirus pandemic has dramatically upended children's' environments. Looking around my neighborhood, it seems that most children are safely inside with their families. As we enter a longer period of uncertainty, it's time to share ideas about how we create safe, positive environments for children when they are no longer at school or childcare, and parents are themselves feeling uncertain and worried. Here are a few ideas; please click on this post and use the comments box to share your own.
Spend time outside
Whenever possible, make sure children get outside at least once a day.  Fresh air – and a change environment – is healthy for all of us. Most areas that are sheltering in place still allow families to go outside for exercise, or to relieve their pets. Bring the kids along! Is there a place where they can run? Can you bring a ball or Frisbee and play catch? Can you play a game of "I spy" and look for signs of spring? Not only would this be refreshing for adults and children, but experiencing the outdoor environment supports our health and well-being.
Establish a routine
Children feel secure when the environment is structured for them. Can you help them learn a new daily routine? They may be used to waking up in the morning and having breakfast, then getting ready for school or childcare. How many of these aspects of daily life can continue? For parents who are working at home and need time to work, consider setting clear expectations and having frequent check-ins with your child.
Take advantage of relief efforts
An equitable environment includes enough food to eat and a sense of security at home. For children who usually receive free or reduced-price breakfast and lunch at school, and for parents who have lost income, this may be more challenging. Take advantage of evolving relief efforts, including local efforts to distribute food to children who are missing their school lunches, and relief programs that prevent eviction, deportation, and other threats associated with this pandemic. Children may benefit from reassurance that somehow or another, the family will make it. If this is a problem for you or your family, reach out for help. Many states have established website or hotline numbers, and most child health clinics have information available as well.
Nurture social connections
The loving child's environment includes connections to those we care about. Help children reach out to their friends, relatives, and especially elderly or vulnerable folks who may be feeling particularly isolated. Hand-drawn cards, photos, videos, and phone calls all help maintain these close important connections. Read more about fostering these connections in my previous post, "HOPE, Engagement, and COVID-19."
I will end this blog by asking people to use the comment section to send along photos or drawings showing how we're coping with the current crisis. Beginning next week, we will have guest bloggers and interviews that continue to help others use the building blocks of HOPE – Healthy Outcomes from Positive Experiences – to make sure that our children will make at least some positive memories from these difficult times. Have a restful weekend and be well.
Bob, Dina, and Chloe