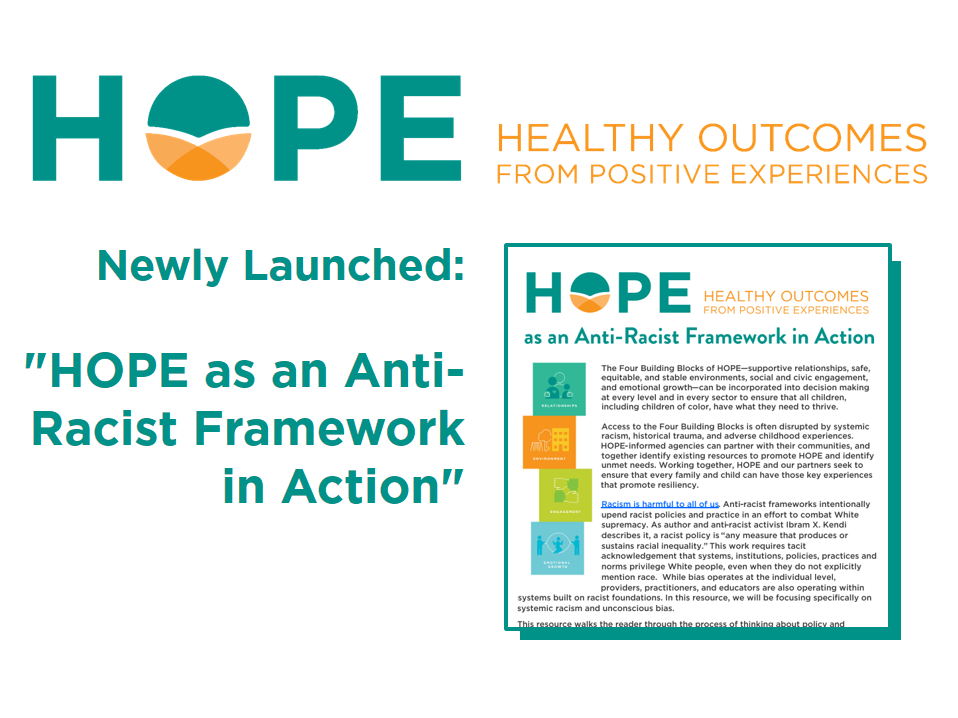 The team at HOPE National Resource Center is excited to release our "HOPE as an Anti-Racism Framework in Action" fact sheet (which can be found on our Resources and Handouts & Worksheets pages). We know that Positive Childhood Experiences (PCEs) from the 4 Building Blocks of HOPE (relationships, environments, social and civic engagement, and social and emotional growth) support child development and buffer against the long-term health consequences of Adverse Childhood Experiences. We spent time together during February, Black History Month, to examine our own processes. 
Individual and systemic racism have created a world where children of color are both more likely to experience ACEs and face challenges in accessing the 4 Building Blocks of HOPE. These no doubt contribute to adult health disparities.
Actively fighting against health disparities rooted in racism takes ACTION. It's this belief that led us to develop a practical and tangible tool to change policies and practices with the goal of increasing access to Positive Childhood Experiences for all kids.
"HOPE as an Anti-Racism Framework in Action" walks readers through a HOPE-informed process towards policy and practice change. Through case studies in early childhood education and pediatrics, readers see the framework in action. The three-step process includes:
Reviewing the data,
Engaging local communities, and
Making change.
We hope you'll take a look at the resource, and think critically about what you can do at your organization to begin increasing access to each of those 4 Building Blocks for the children you serve. When you do so, let us know about your successes and challenges – let's all learn from each other as we go.