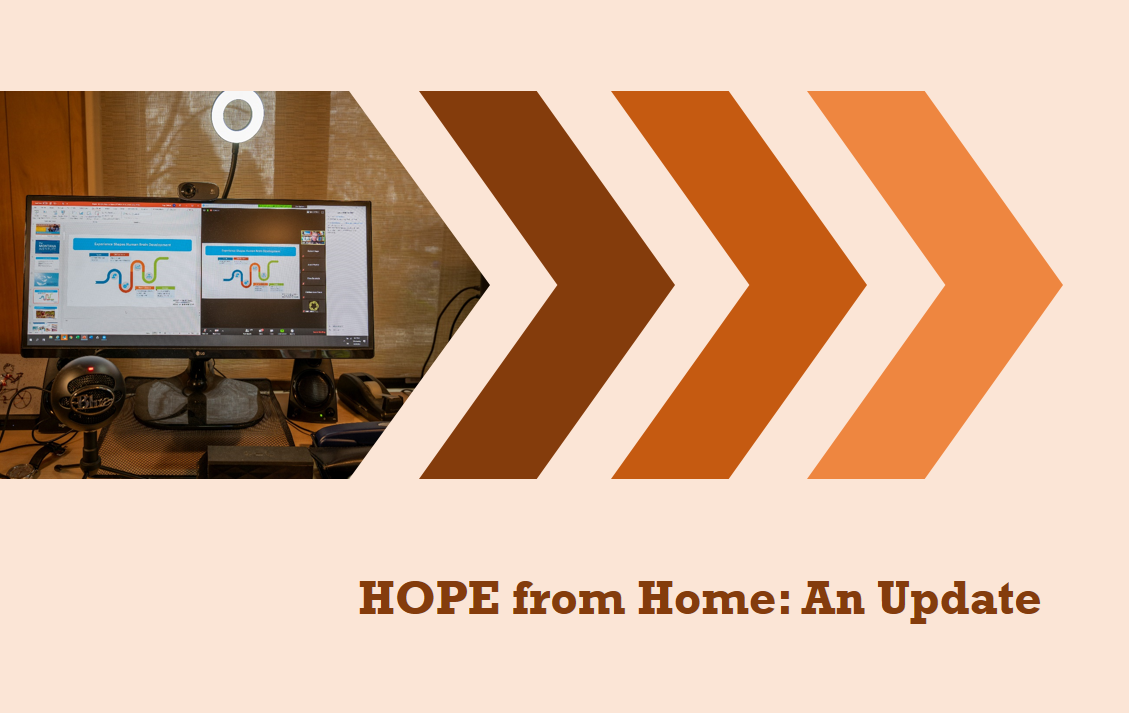 We hope all is well with each of you and that you are managing during these challenging times. We wanted to update you on the progress of the HOPE project. Please follow along on this positiveexperience.org blog as we continue to use this platform to develop and disseminate HOPE.
Here's an update of our activities to date:
Blogs and Media
Presentations/Webinars
We continue to forge ahead with bringing HOPE to different groups throughout the country via Zoom. In the past two weeks, our team has led HOPE webinars that attracted over 1000 participants from around the US!
On April 13th, Bob joined HOPE National Advisory Board member Cailin O'Connor in a webinar for the Help Me Grow network that attracted nearly 500 participants.
On April 21st, the HOPE team held a webinar in conjunction with Jeff Linkenbach and The Montana Institute for a variety of practitioners in Minnesota, sponsored by the Minnesota Department of Human Services, Behavioral Health Division. The event was a great success with over 300 people participating. We had 50 breakout groups for the morning event and three concurrent afternoon sessions. We are learning so much about Zoom!
On April 29th, the HOPE team held a webinar planned in conjunction with Dr. Jeff Linkenbach of The Montana Institute for practitioners in the Pacific Northwest. 300 people participated in this webinar, sponsored by the Center for the Application of Substance Abuse Technologies. Most participants work with teenagers and young adults; HOPE has lots to offer for this age group.
We are constantly getting requests for presentations, so lots more to come!
Overall, on this website, we have had more than 12,000 total page views by over 4000 unique visitors to date; thank you to everyone who is exploring the website and following the blogs! We are so grateful to have your support. HOPE will begin publishing a monthly newsletter in future; please sign up for our mailing list if you're interested in hearing more about HOPE events, webinars, blogs, and media coverage, or just email us at HOPE@tuftsmedicalcenter.org
Take care!
Bob, Dina, and Chloe