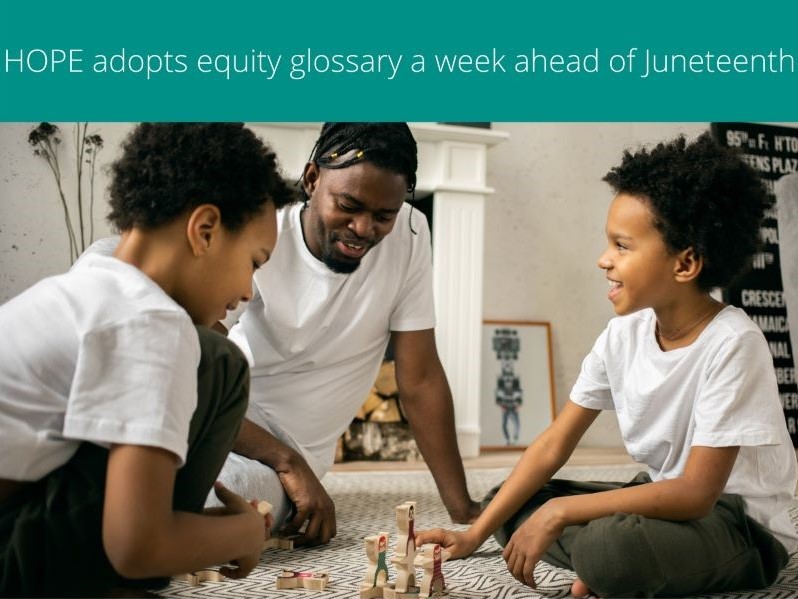 HOPE is committed to anti-racism, anti-bias, and health equity as they are all fundamental to giving children and families access to positive childhood experiences (PCEs). Further, racism, in all its forms, can block access to each of the Four Building Blocks of HOPE. Therefore, we believe that anti-racism techniques are critical to implementing HOPE into any child- and family-serving system or organization effectively.
Over the past year, we have learned that having a common language is an important foundation for anti-racism work. Thus, the HOPE National Resource Center is adopting the Key equity terms and concepts: A glossary for shared understanding, from the Center for the Study of Social Policy. This is on top of the resources, online course, and formal anti-racism statement available on our website. In addition, the American Public Health Association has acknowledged racism as a public health crisis, and we affirm the definition of racism from APHA Past-President Camara Phyllis Jones, MD, MPH, PhD.
HOPE sees each person as an individual with essential human dignity and also acknowledges that racism seeks to strip away that dignity. This act of adopting shared language is one way that we uphold our dedication to anti-racism.