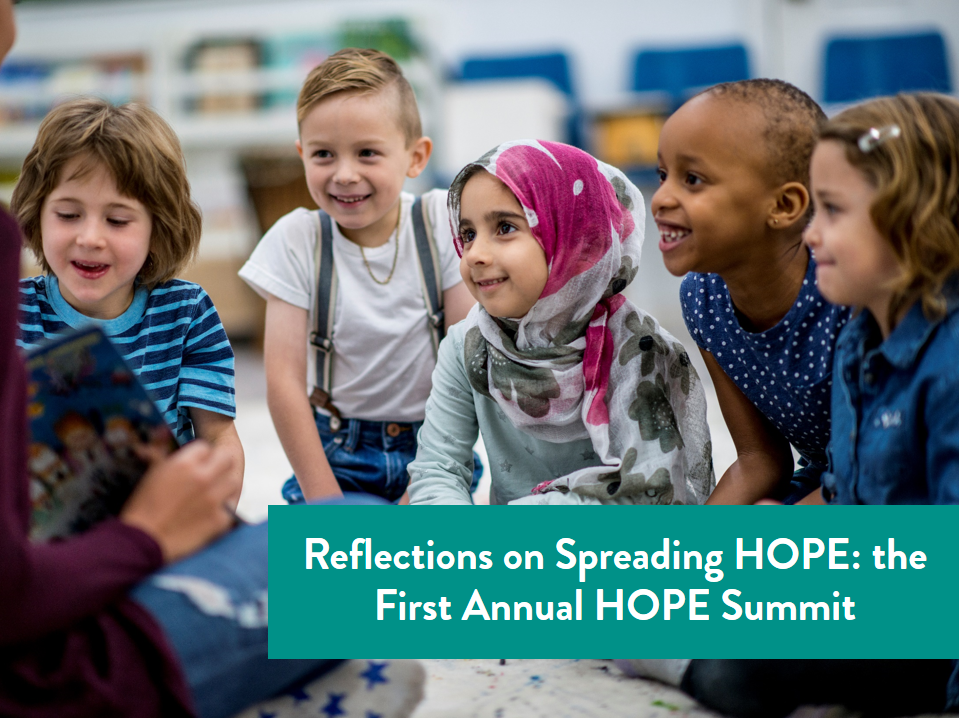 On April 9, the HOPE National Resource Center hosted our first annual summit. This year's theme was Spreading HOPE, and among rich discussions on HOPE in various sectors, we celebrated the growing recognition of our work around the country. Over three hundred people participated from across the U.S. and five other countries, from the health, education, child welfare, and public health sectors, including front-line providers and senior executives. Recordings of the plenary sessions, the afternoon sessions, and resource materials from the conference are being posted on our new Summit webpage next week; additional content will continue to be added throughout the month of April. Please keep an eye out for our blog post announcing the launch of this page (subscribe to the blog here)! In the meantime, you can view Dr. Sege's plenary session at this link.
The day began with Dr. Sege's report on HOPE in 2021. His remarks included a basic overview of the HOPE framework and our current status: HOPE has reached over 10,000 people through dozens of local, state, regional and national events. The HOPE Innovation Network launched in January and includes organizations from coast to coast, in pediatrics, home visiting, early child education, and substance use prevention. HOPE has been a driver of organizational change in our collaborating organizations, including the newly re-named PACEs connection. Academic papers citing HOPE have started to appear.
Rev. Darrell Armstrong provided a powerful keynote address. Using his own life story as an example, Rev. Armstrong described how childhood adversity can be overcome; we are capable of healing even after severe trauma. Rev. Armstrong discussed how he uses HOPE to guide pre-baptismal counseling for his congregants, and how he has trained other clergy members who now add the principles of brain science to their deep spiritual tradition and connections.
Following the two plenary addresses, participants joined workshops led by leading experts across sectors, for discussions of HOPE-related topics in smaller, more interactive sessions. These sessions were designed to hear your perspectives on HOPE. Notes taken during those sessions will directly shape HOPE resource development and will, broadly, help us incorporate hundreds of additional voices in our ongoing work (thanks to our session note takers for all their help). One nationally prominent leader has already told us that they have re-oriented their thoughts and communications strategy based on what they learned from workshop participants!
For those who joined us on April 9th, thank you for an incredible day of HOPE and discussion! We are so grateful to have had each of you engaging in such rich sessions. To our summit workshop leaders: we can't thank you enough for the time, effort, and expertise you brought to this summit. We hope you enjoyed Spreading HOPE as much as we did!
Once again, please keep an eye out for the launch of our HOPE Summit page, which will feature session recordings and materials. To be notified of the blog post announcing its launch, subscribe here. Be on the lookout for announcements about the 2022 HOPE Summit!