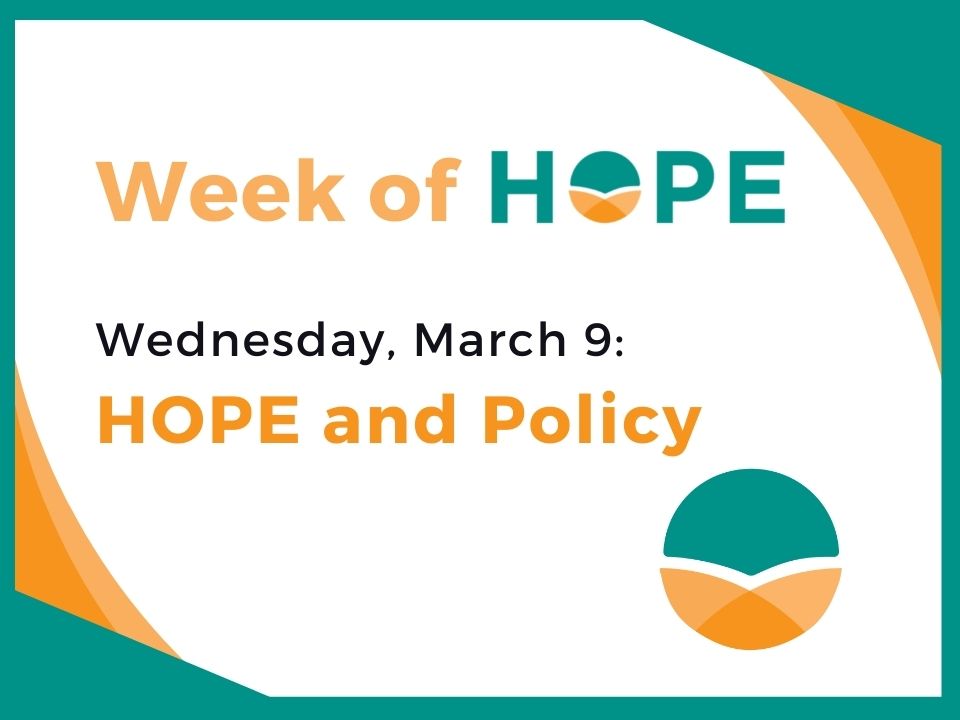 Today, Wednesday, March 9, is the third day in our Week of HOPE. This week is intended to spread awareness of HOPE – Healthy Outcomes from Positive ExperiencesTM and help people learn about the difference that positive childhood experiences can make for children, families, and those who serve them. Today's theme is HOPE and Policy. We will be talking about policy in its many forms, from legislative action and advocacy to organizational level policy changes.
Each type of policy can create stronger and more equitable care, housing, financial stability, and so much more that can help families gain access to all four HOPE building blocks. Today, we released a new policy tool with step-by-step instructions on how to explain HOPE and its many benefits to policymakers, and we released a new episode in our podcast series.
As an added bonus, do not miss our Week of HOPE celebration virtual swag bag with fun HOPE-themed Zoom backgrounds, HOPE face masks, and much more!
Happening today:
The third episode of A HOPEful Podcast was released. Listen to the HOPE Director of Networks, Communications, and Policy Allison Stephens, PhD discuss politics versus policy and the importance of advocating for policy change on both the governmental and organizational level! Listen to the episode here.
A few months ago we released a proclamation to declare an official Week of HOPE. This effort has resulted in several states celebrating a Week of HOPE with us! Kansas is celebrating an official Week of HOPE with us this week, below is a quote from Vicky Roper, Prevent Child Abuse Kansas Director, Kansas Children's Service League, who brought this to the attention of the Governor. And we are very excited to also announce that there will be another Week of HOPE in the month of May to be celebrated in Idaho.
Today, we are releasing a new policy tool, which outlines how to tell your elected officials about HOPE. As highlighted above, reaching out to policymakers can help spread the awareness of HOPE and the importance of positive childhood experiences!
A Word from Those Celebrating an Official Week of HOPE with Us:
"We are thrilled that Governor Laura Kelly of Kansas has shown support for this work by signing a proclamation declaring March 7 -11 as the Week of HOPE (Healthy Outcomes from Positive Experiences). Kansas agencies focused on preventing and mitigating adverse childhood experiences are eager to spread the importance of HOPE in our communities. We now know, thanks to this research, that brain development is improved through positive childhood experiences and decreases risk of poor mental health and depression even with significant adverse childhood experiences and adverse community environments. This information needs to be shared broadly, especially now." — Vicky Roper, Prevent Child Abuse Kansas Director, Kansas Children's Service League

"Though many of us and our neighbors have faced tremendous hardship and loss this past year — our collective hope prevails. Right now, we're seeing great momentum and an incredible sense of urgency to ensure all children and families have access to the services and supports needed to keep their families safe and strong. There is no better time than now to take action. We are encouraged by the continued growing interest in prevention and hope, and together we can grow a better future for all." — Dr. Melissa Merrick, President and CEO, Prevent Child Abuse America
Resources about HOPE and policy:
Swag: