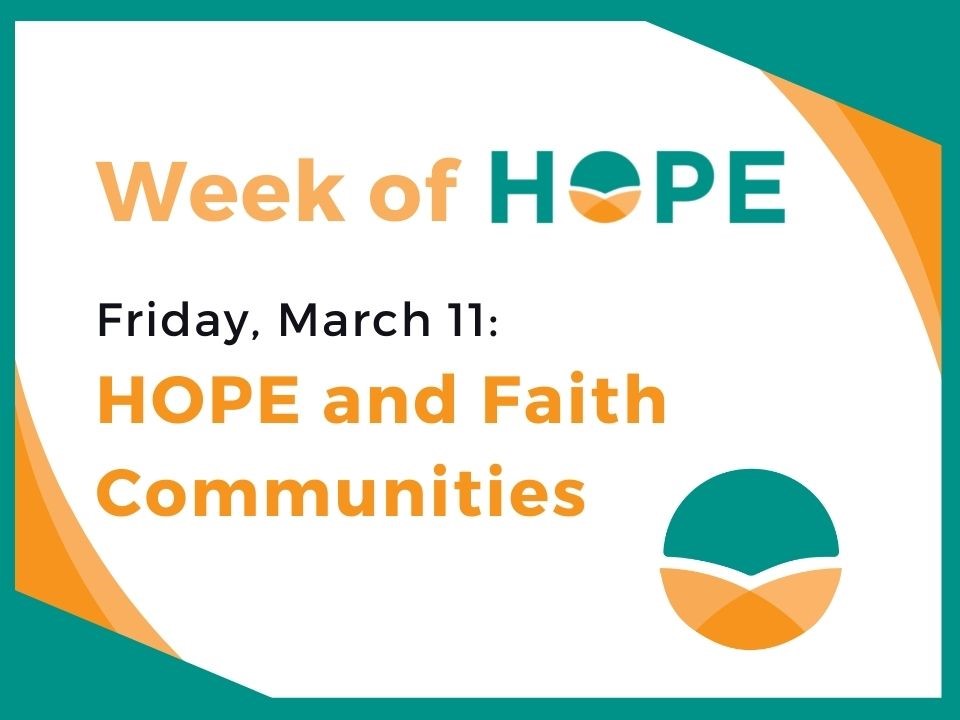 Today, Friday March 11, is the fifth and final day in our Week of HOPE. This week is intended to spread awareness of HOPE – Healthy Outcomes from Positive ExperiencesTM and help people learn about the difference that positive childhood experiences can make for children, families, and those who serve them. Today's theme is HOPE and Faith Communities. HOPE is a flexible program that makes space for all practices that lead to positive childhood experience, multiple faiths, and their many forms of practice fit perfectly into each building block.
Today we are hosting a conversation among faith leaders from different religious communities. Registration for the HOPE in Faith Communities HOPEful Conversation will be open until noon today! We are also releasing our new HOPE and Faith Communities toolkit!
As an added bonus, do not miss our Week of HOPE celebration virtual swag bag with fun HOPE-themed Zoom backgrounds, HOPE face masks, and much more!
Happening today:
Register for our HOPE in Faith Communities HOPEful Conversation happening today from Noon – 1 p.m. EST. We will be joined by Reverend Darrell Armstrong and Rabbi Geri Neuburge, with HOPE's Director Dr. Robert Sege moderating.
Episode five of A HOPEful Podcast has been released. This episodes was released in two parts, listen to Dr. Robert Sege and Reverend Darrell Armstrong discussing the upcoming HOPE in Faith Communities conversation and how HOPE is implemented in a faith-based setting. Listen to the episode here.
We are also sharing a new HOPE in Faith Communities Toolkit to be used to as a guide to help spread HOPE among the many different religious and faith-based communities. See the new HOPE and Faith Communities toolkit here.
Resources about HOPE and faith communities:
Swag:
Thank you for spending the Week of HOPE with us! The goal of HOPE is to improve empathy, drive respect for human dignity, and foster trust among families in all sectors that reach children and families, and we cannot do this on our own. We thank you for being on this journey with us to a more HOPEful future.