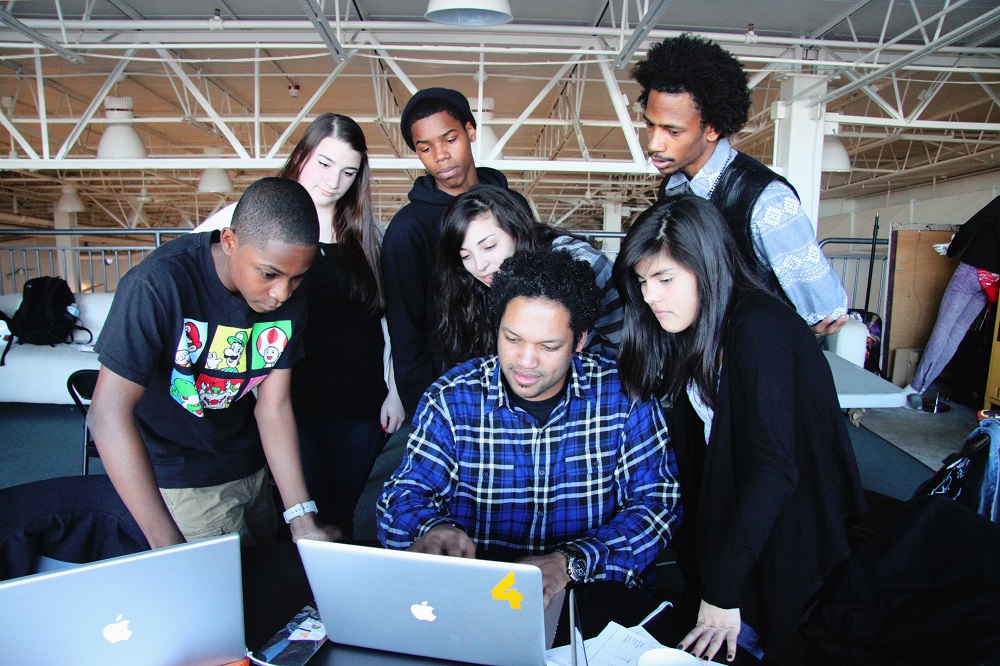 Note: The image above was provided by Artists for Humanity, a nonprofit organization of teen artists and designers which HOPE is currently working with. This picture was taken before the Covid-19 pandemic, and we encourage social distancing/public health requirements.
It's easy to focus on the negative now that we are two months into the Covid-19 pandemic. Today, we turn our attention to some of the Positive Childhood Experiences that form the basis of HOPE. This blog focuses on how adolescents and young adults across the country have demonstrated their engagement (engagement is one of the 4 Building Blocks of HOPE and has been discussed in a previous blog).
First of all, to state the obvious: teenagers and young adults have experienced massive disruptions in their lives. Students are no longer in school. Sports teams don't practice or compete. Stores are closed, and after school jobs and activities vanished in days. Graduating college and high school students were hurried out of school, without the graduation ceremonies to mark their accomplishments.
Although rates of serious illness and death are extremely low in this age group, their social distancing and sheltering-in-place play an important role in making the world safer for all of society. There are many stories of teens and young adults accepting public health requirements like social distancing and other safety measures, with remarkably little griping considering the circumstances. Here are a couple of examples of students still learning, even though schools are shut and they are staying at home: these high school journalists are still putting out news, and the Boston Globe wrote about these students working hard to get into Boston Latin, a public exam school. We think that many others have figured out how to keep their educations on track, although many face economic and infrastructural inequities that make this difficult.
It's easy to worry about this students and other young adults. Will they become depressed with their routines disrupted, friends physically inaccessible, and some having to shoulder adult responsibilities on top of their schoolwork? Will they turn to maladaptive coping mechanisms? Unsurprisingly, news outlets are filled with descriptions of each of these potential issues and highlight specific events as they arise.
At the same time, many parents are proud of their children. We hear about the remarkable resilience and coping strategies teens and young adults have displayed. It is very common to underestimate the thoughts and behaviors of others, particularly when our information about strangers comes from reports of poor behavior. One of our partners, the Montana Institute, has developed public health strategies based on closing this gap between our perceptions of others and reality, including with this report for the CDC's Essentials for Childhood project.
Here are a few examples from a quick Google search which suggest that remarkable children and young adults have lots of company:
This New York Times article details some of the ways kids are creating new traditions with their families, keeping in touch with their friends virtually, and even starting campaigns to gather donations for local shelters.
This TIME magazine article describes how teens have had to take on more caregiving and other adult responsibilities, in addition to financial stress and schoolwork. Similar to older adults, these burdens sometimes create strains and exacerbate mental health issues. The article ends with ways that teens are connecting each other to formal and informal mental health resources.
This CNN article tells the story of a volunteer grocery delivery service in Maryland, led by two sophomores in high school and staffed with 65 teen volunteers. One can find stories of teen volunteers delivering groceries to seniors in the LA Times, making lunches for the homeless in Florida, and tutoring kids virtually in Cincinnati.
Although his intended audience was quite a bit younger, reading these stories of generosity and positivity remind us of the famous Mr. Rogers quote: "When I was a boy, and I would see scary things in the news, my mother would say to me, 'Look for the helpers. You will always find people who are helping.'" During these scary times, we don't need to look very far for the helpers. We are optimistic that the children, adolescents, and young adults who have been so engaged will carry these positive experiences throughout their lives.