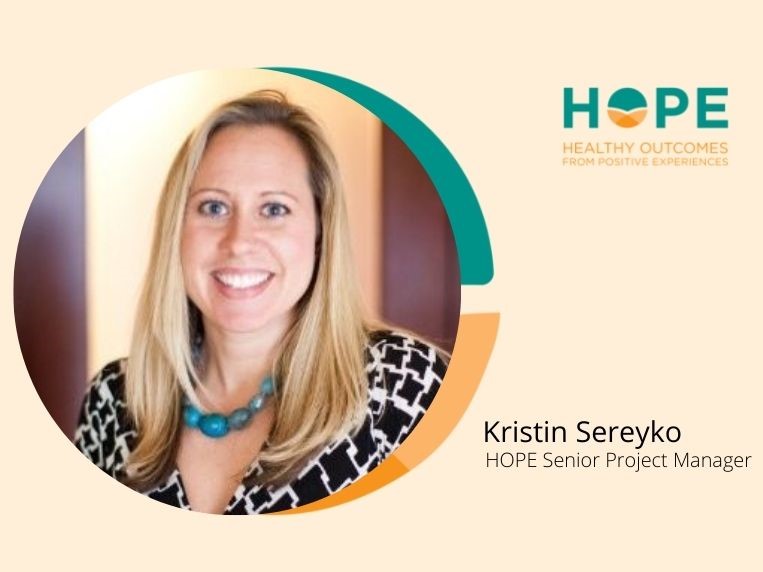 The HOPE National Resource Center (NRC) is growing. Last week, Kristin Sereyko started as HOPE's new Senior Project Manager. Kristin will be responsible for overall management of finances and program growth.  She will assist with strategic planning and execution of this plan helping to ensure sustainability and successful growth of the HOPE NRC. We are excited to welcome her to the HOPE National Resource Center. As our work expands across the country and around the world, so does our team. Learn more about Kristin below.
Kristin Sereyko joined the HOPE team as a senior project manager in April 2022. Kristin is inspired by the mission and guiding principles of the HOPE NRC. She was raised in a household that focused on childhood education, as Kristin's mother spent her career working in Special Education and fighting for equitable education. This exposure helped Kristin understand the need for equitable education and health programs for children nationwide. She is looking forward to helping share the HOPE framework and how positive experiences can play such a lasting role in children's lives.  
Before starting at HOPE, Kristin worked within the Homeland Security Operational Analysis Center at the RAND Corporation. Kristin supported projects sponsored by the Department of Homeland Security and its components. She also supported a large team in San Juan, Puerto Rico, assisting FEMA on the recovery of Hurricanes Irma and Maria. Prior to working at the RAND Corporation, she spent her professional career working in the hospitality industry, managing events and venues throughout the United States. She received a B.A. in Art History from the University of Rhode Island.