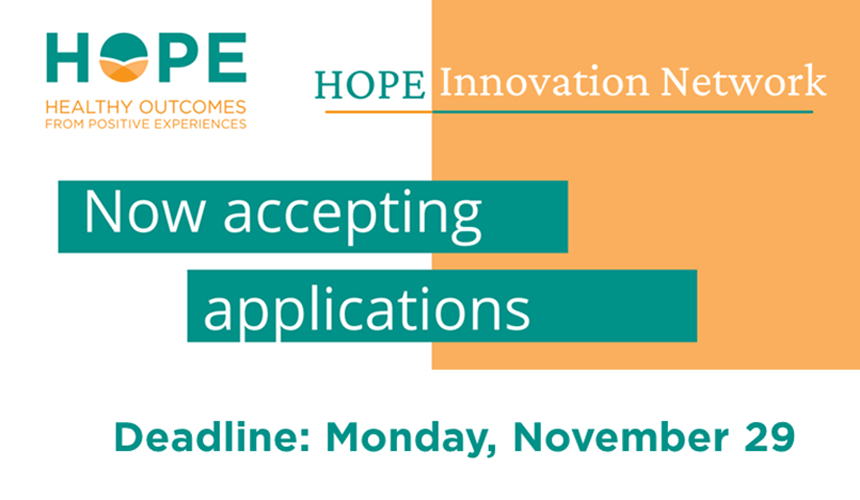 Applications are now being accepted until November 29 at midnight.
What is HIN:
The HOPE Innovation Network (HIN) is a group of child and family-serving organizations in diverse communities that are implementing the HOPE framework through a guided process. HIN participants will be joining the HOPE team in a paradigm shift from deficits-based services to strengths-based supports. Participating in HIN will support your organization's efforts to mitigate the outcomes of adverse childhood experiences (ACEs), reduce health inequities, and connect with families in a meaningful way.
What to expect as a HIN member:
HIN participant organizations will engage in a guided HOPE implementation process over the course of a 6-month period, followed by a 3-month to 6-month evaluation period. The project will begin in January 2022. HIN participant organizations will benefit from the framework that HOPE provides when promoting positive childhood experiences (PCEs) in their daily operations. To partner with community-based external organizations from diverse sectors of child, youth, and family services on a time-limited basis to spread HOPE and to promote shared learning about HOPE implementation across the country.
The HIN project will focus on implementing HOPE during the organizations' initial contact process (e.g. sign-up, assessment, enrollment, etc.). The HOPE National Resource Center will guide the HIN participants in reviewing forms and policies, staff trainings, family engagement, etc. At the end of the HIN project, you will be fully-prepared to initiate implementation of your custom HOPE-informed initial contact process in your organization.
Benefits of participation:
Fee waiver for full access to the HOPE learning management system.
Fee waiver to register for HOPE trainings that offer CEUs.
Continued technical assistance from the HOPE National Resource Center after the project ends.
Reduced fees (50% off) for the Train-the-Facilitator program including certification.
Learn more and apply here. If you know of an organization that would be a good fit, we encourage you to share this application with them!