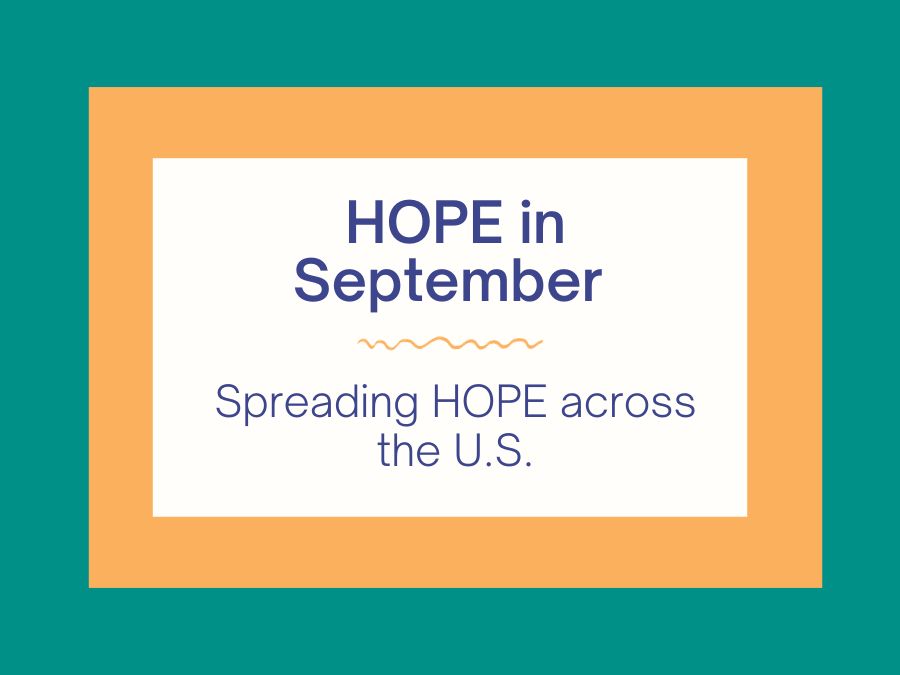 Throughout the month of September, the HOPE National Resource Center attended three prominent conferences across the country. The HOPE team presented the HOPE framework and positive childhood experiences (PCEs) including how to support LGBTQ+ students. We love to see HOPE spreading throughout the country and reaching new areas, promoting PCEs to all children and families.
HOPE impacts communities across the U.S.
On September 29, Dr. Robert Sege, Director of the HOPE National Resource Center, presented a keynote address, "HOPE in Practice," at the Early Childhood Mental Health Conference: We Can't Wait! in San Diego, California. He discussed the use of the HOPE framework in practice. By the end of the address, participants were able to provide at least one example of an element of HOPE-informed care, explain the anti-bias technique of individuation and how it relates to HOPE-informed care, and develop at least one idea for practice change that incorporates the HOPE framework. On October 2, Dr. Sege met with students, faculty, staff, and leadership at San Diego State University to discuss their vision of becoming a HOPE-informed University!
On September 28, Dr. Allison Stephens, Director of Networks and Policy, spoke at the Robert Wood Johnson Foundation's Systems for Action All Grantee Meeting. She presented our current project, FAAITH (Faith Leaders Allied and Aligned to Institute Trust in the Home) and HOPE for equitable systems alignment, to 15 other awarded grantees and members of the Systems for Action staff and leadership. Dr. Stephens shared how the HOPE framework is being used within faith communities to spread PCEs in Trenton, New Jersey. Rev. Darrell Armstrong, a HOPE National Advisory Board member, co-leads this project and answered questions at the end of the session. Other grantees shared their projects from many fields, from healthcare to community resilience.
On September 29, Amanda Winn, Director of Training and Technical Assistance, presented at the 2023 Oregon Equity Summit: Embracing Equity Stories, Strategies, & Successes in Salem, Oregon. In her talk, "Supporting the Resilience of LGBTQ+ Students," Winn discussed the research behind positive childhood experiences, the data highlighting the need to innovatively support LGBTQ+ youth, and specific actions that the Summit participants can take to build resilience of LGBTQ+ youth in a school setting. For more information on supporting LGBTQ+ students, please visit the Toolkit for Educators created by the Massachusetts Center on Child Wellbeing & Trauma and HOPE's resource on Promoting PCEs for children and youth who are transgender and nonbinary.
Request a HOPE presentation or workshop
Are you interested in a HOPE presentation or workshop for your organization? The HOPE team offers a variety of options based on activities, topics covered, duration, and speakers. We will work with your organization to customize the HOPE training to meet your needs.