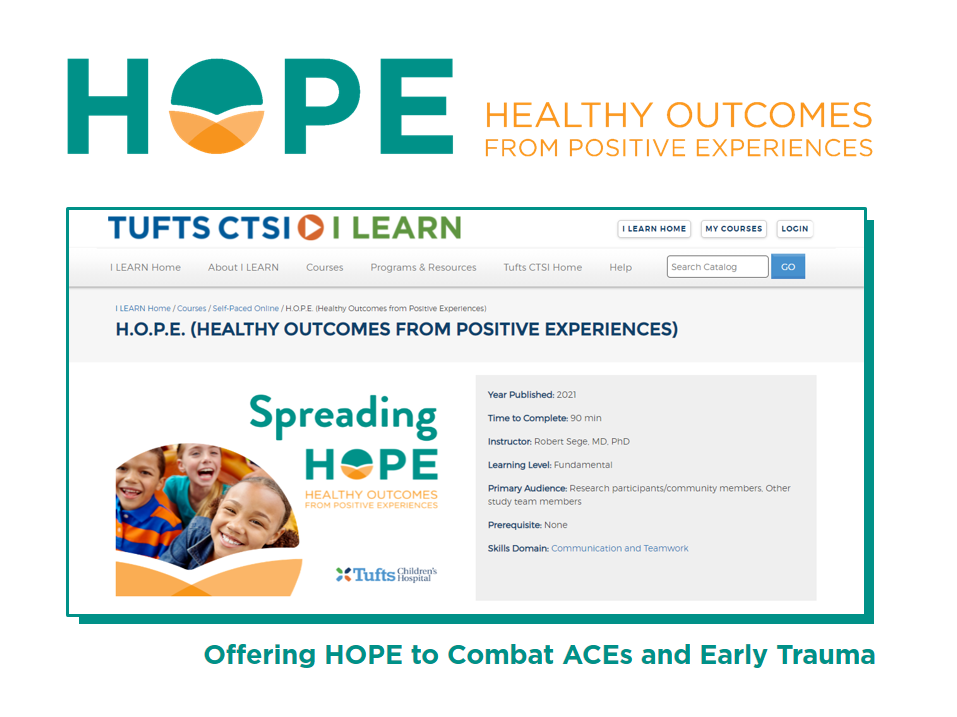 Decades of research have shown that Adverse Childhood Experiences (ACEs) and early trauma can lead to toxic stress, which can damage learning, behavior and health across an individual's life and even be passed down from one generation to the next. After witnessing first-hand the effects of ACEs on their patients and communities, health care providers around the country have moved to the front lines of the movement to combat ACEs, and many are learning how to help their patients screen for and get help with the effects of early adversity and trauma.
But while the effects of ACEs can be debilitating and long-lasting, they don't have to be a foregone conclusion.
A new framework developed by a network of leaders at the Center for Community-Engaged Medicine at Tufts Medical Center is showing how the effects of ACEs can be mitigated and even healed through positive experiences. Titled Healthy Outcomes from Positive Experiences, or HOPE, the framework seeks to broaden our focus beyond ACEs and create a new paradigm that highlights the positive experiences that support children's growth and development into healthy, resilient adults.
"When we, as providers, understand people based on their strengths as well as their difficulties, we can drink from that deep well and work together to address the real challenges for individual families and also the society we share," says Robert Sege, MD, PhD, director of the HOPE National Resources Center.
Now the HOPE team has created a free online course also titled "H.O.P.E. (Healthy Outcomes from Positive Experiences)", for providers and others who work with children and families and want to improve their quality of care. Provided through the Tufts Learning Management System platform and developed in collaboration with the Education Development Center, this self-paced course offers free access to comprehensive research, based in the "Science of the Positive," on how Positive Childhood Experiences drive healthy development and can mitigate the effects of ACEs.
Course modules will review the biological changes that are activated by Positive Childhood Experiences, as well as the four Building Blocks of HOPE and how to equitably serve the needs of all children and families with respect and dignity. Direct service providers who complete this five-part course will have the information and skills to provide HOPE-informed care so that they can act with empathy, optimism, and reduced bias, thereby enhancing their quality of care.
Continuing education credits in medicine, nursing, psychology, and social work will be available soon. Registration for the course can be found at ilearn.tuftsctsi.org.
— The HOPE National Resource Center