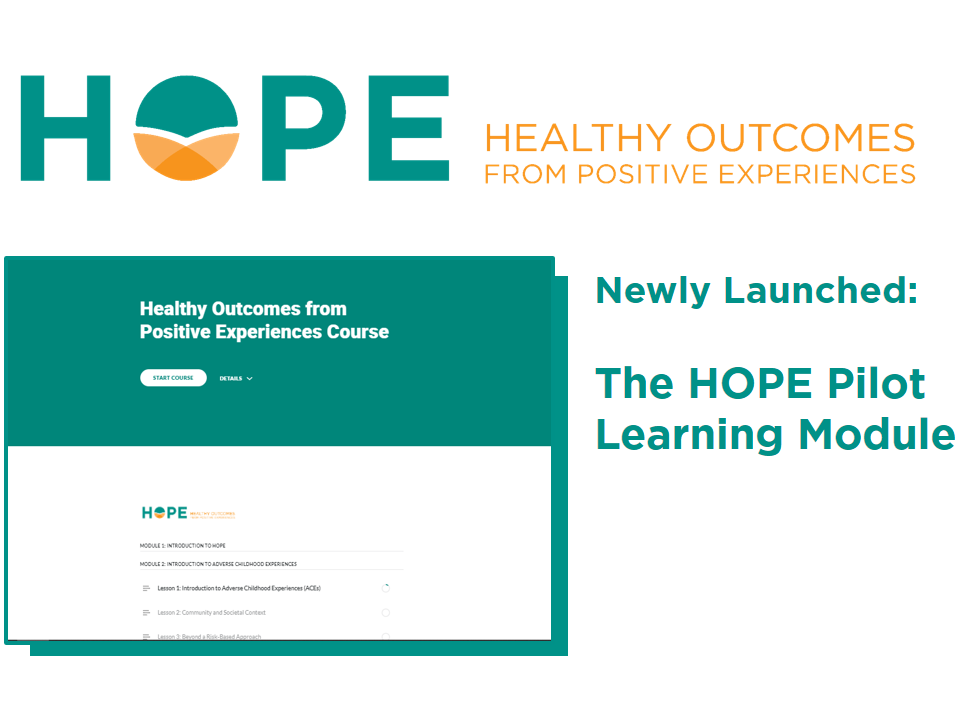 The HOPE (Healthy Outcomes from Positive Experiences) National Resource Center has long held interactive workshops—made virtual during the pandemic—which teach participants about positive childhood experiences, the science of HOPE, the evidence-based Building Blocks of HOPE, how to translate HOPE into practice, and more. In this time of disruption and adversity, there is an especially urgent need for HOPE's strengths-based approach. In light of these circumstances, we have been working to make this HOPE training accessible to even more individuals. We are now excited to announce that our pilot learning module is up and running! We would love your help with taking the module and providing your feedback.
The HOPE team is working with the Education Development Center to build out our learning management system. Today, we are launching our pilot module: "Introduction to Adverse Childhood Experiences." In this module, you will gain foundational knowledge about the effects of adverse childhood experiences (ACEs). Through the interactive lessons, featuring short videos, interviews with guest experts, short quizzes, and supplemental materials, you will learn what ACEs are, how they affect adult health, and why there is an urgent need for a HOPE-informed approach to working with children, families, and communities.
Please click here to take the module, and once you do, click here to give feedback on your experience! Watch out for updates as we continually develop modules with the Education Development Center. We will announce new modules on this blog, which you can subscribe to at this link. We will also be announcing new modules through our monthly newsletter which you can subscribe to by clicking here.
We are excited for this new era of HOPEful education, and we look forward to hearing your feedback!
Additional HOPE Update: Photo Contest Judges
Earlier this month, HOPE launched our very first smartphone photography contest! All students currently enrolled in a high school in the Greater Boston area are eligible to participate. The first place winner will receive this $700 Olympus mirrorless camera, courtesy of Hunt's Photo and Video, and the top ten winners will each get a custom professional print donated by ColorTek of Boston.
Entries will be scored by our panel of accomplished judges. All our judges are professional photographers, whose works have been featured in National Geographic, The New York Times, WIRED, and more. Our panel also includes the Lead Photo Editor for the Wall Street Journal. To read more about our judges, visit "The Judging Panel" section of our contest website. If you know any interested students or educators in the Greater Boston area, feel free to share this contest with them! We are excited to see all the positive experiences students will capture with their entries.