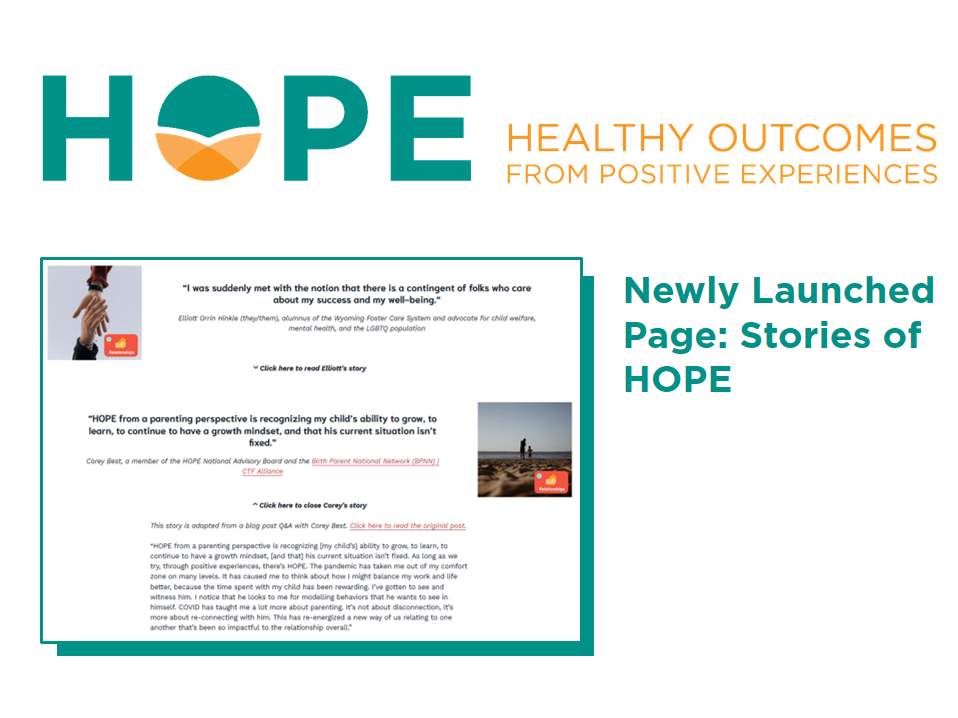 As the pandemic stretches far into the foreseeable future, with jobs, schooling, housing, and almost every other aspect of life a swirl of uncertainty, it is easy to fixate on the negative. Here at HOPE, we do not deny the devastating severity of the pandemic's effect on lives across the nation. We do not deny Covid-19's exacerbation of long-standing systemic inequities in healthcare, housing, education, employment, and more. However, we know this image of complete wreckage is not the full picture.
Before and during Covid-19, in webinars and in interviews for blog posts, we have heard stories of resilience and positivity—family members connecting in new ways, youth leading protests for racial justice, individuals reaching out to each other, closing social distances while maintaining physical ones. To honor these stories and share them with the world, we are launching a "Stories of HOPE" webpage, for personal anecdotes of key positive experiences (centered on the 4 Building Blocks of HOPE) that bolstered resilience in the face of adversity. The "Stories of HOPE" page also includes professional stories of how individuals use HOPE in their work. Some of the stories on these pages include sections of interview transcripts that we didn't include in the resulting blog posts, while others are written testimonials submitted by past webinar participants.
This webpage would not be possible without the assistance of our two summer students, undergraduates at Tufts University. These students, Yasaman Salon and Esther Sokoloff-Rubin, helped conduct and transcribe interviews, draft the resulting Q&A blog posts, and compile stories and photos for this page. Below, Yas and Esther share their own stories of the working with the HOPE team and helping to launch this page.
Yas' story: "As an undergraduate psychology student, my work at the HOPE project has provided me with an early exposure to the power of a strengths-based approach. I am immensely glad that I learned about HOPE at this point in my academic and professional career, as I will be able to use what I've learned to shape the trajectory of my career. Far too often, healthcare fixates on negative aspects of a patient's situation. HOPE avoids this by emphasizing past positive experiences as strengths and future positive experiences as chances for growth. In short, HOPE allows us to understand that adverse childhood experiences (ACEs) do not 'doom' children; by fostering resilience and positive experiences, we can also foster a better sense wellbeing for these children.
I am excited for the launch of the Stories of HOPE pages. One of the most compelling parts of working on this project was talking to people about HOPE through interviews and webinars; during these conversations, I was able to hear real stories from people whose lives have been deeply impacted by positive experiences. These stories, in combination with the data supporting HOPE, have shown me the power of positive experiences. I hope these stories allow you to walk away with a new piece of insight or new understanding of positive experiences."
Esther's story: "Working with Project HOPE this summer, I learned how we can use research to prove the validity of working with youth and families to create and harness positive experiences.
I had the privilege of talking with professionals who apply the language of HOPE in their work with young people every day. They shared their excitement about the strengths-based HOPE framework. I was moved to hear them compare what HOPE offers young people with their own often negative experiences of professionals talking about ACES in bleak and one-sided ways. In the current political moment, the building blocks of HOPE are challenging systematic oppressions and encouraging community building, rather than placing blame and responsibility on individuals. As a future medical professional, I find myself now considering, 'How can I empower youth and communities who've faced challenges, rather than perpetuate harmful feelings of defeat and personal guilt?'
When conducting interviews, I got to reflect on my own life experience in comparison to and in conjunction with the interviewees. I contemplated, 'How can I help youth to acknowledge the impacts of trauma and simultaneously support them in taking tangible steps to reduce the likelihood of negative health outcomes?' Thank you, Project HOPE, for helping me build a new toolbox. I hope these Stories of HOPE pages can inspire others to do the same."
Esther and Yas were phenomenal students to have working with us this summer, and we can't thank them enough. Echoing their sentiments, the HOPE team is excited to share these stories with you! We hope these stories will move you, make you smile, and help you learn more about HOPE. We'd also like to thank everyone who contributed to the page, who took the time to share snippets of their lives and work with us—it is the people behind these stories that drive the power of HOPE's strengths-based approach.
If you are interested in submitting your own personal or professional story of HOPE for publication on the page, you may do so using this form! Your support and engagement is invaluable to the growth and evolution of HOPE. Thanks for following along, and we look forward to hearing your stories of HOPE!