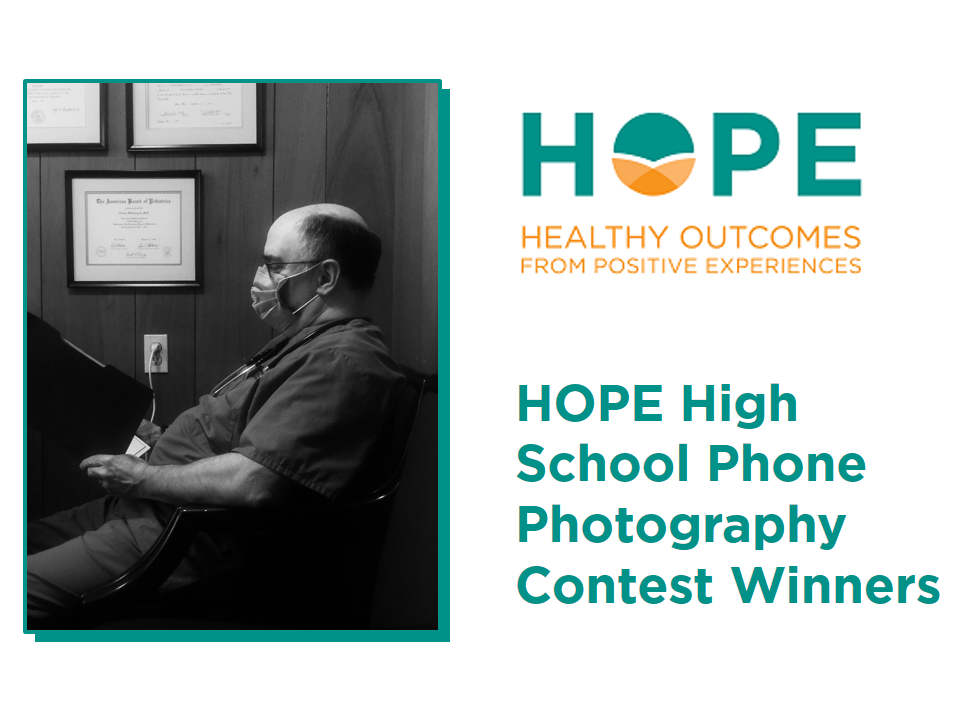 A portrait of a doctor, the photographer's father, reviewing charts during Covid-19. A snapshot of bubbles and chalk art. A photo of protestors fighting for more equitable school reopening plans.
These are some of the winning entries to the HOPE High School Phone Photography Contest. Last fall, the HOPE National Resource Center announced this contest, open to all high school students in the Greater Boston area. To enter, students took photographs with their phones to capture one or more of the 4 Building Blocks of HOPE in their lives (relationships, environment, engagement, and emotional growth). Along with the photograph, students explained how their photos illustrate one or more of the four HOPE Building Blocks.
Though this has been a turbulent and challenging year for all students, as well as families across the nation, the positive also exists—and these students captured those brighter moments. In the New Year, our panel of accomplished judges selected four award winning photographs and two honorable mentions. All of our finalists will each receive an 11 x 14 print of their photo, courtesy of Colortek of Boston. Hunt's Photo and Video generously donated prizes for the winners: the first place winner will be awarded a brand new Olympus mirrorless camera; the second place winner will be awarded a $50 gift card; and our two 3rd place winners will each be awarded one free voucher for an online photography class.
We would like to thank our judges for lending time and expertise to this contest, as well as Artists For Humanity for their support and guidance developing this contest, and for helping to spread the word. Most of all, we'd like to thank all the students who entered this contest, for sharing HOPEful snapshots of their lives with us—reminding us that the positive and HOPE always exists around us, even in challenging times. We are excited to share the winning photographs with you in this blog post.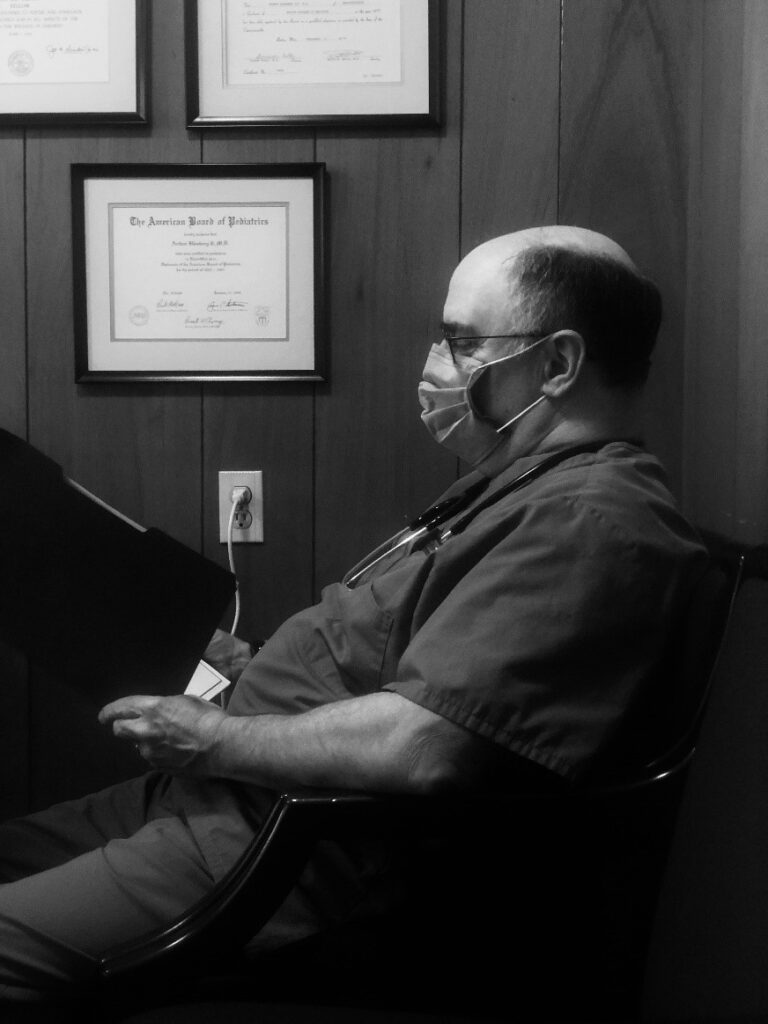 1st place: Alexander Blasberg
Building Blocks: Relationships; Safe, Stable, and Equitable Environments
Description: My photo is representative of the relationships we make with our parents and doctors. This picture is of my father, one of my most respected role models. He risks his life every day during this pandemic in order to provide care to the children in his practice. This photo is of him reviewing charts, a daily practice for him. He is "doing his homework" on the patients he will see in the future, in order to care for them in the best way possible. His dedication to helping everyone he meets has inspired me to follow his lead.
"The Best Overall Submission embodies everything about the global pandemic and mends it with qualities of renaissance painting. The attention to the soft light and profile view of the photographer's father conveys both a sense of appreciation and respect for the subject as they intended but also speaks to the isolation that everyone has felt during the pandemic. It's a beautiful image." –Tony Luong, Contest Judge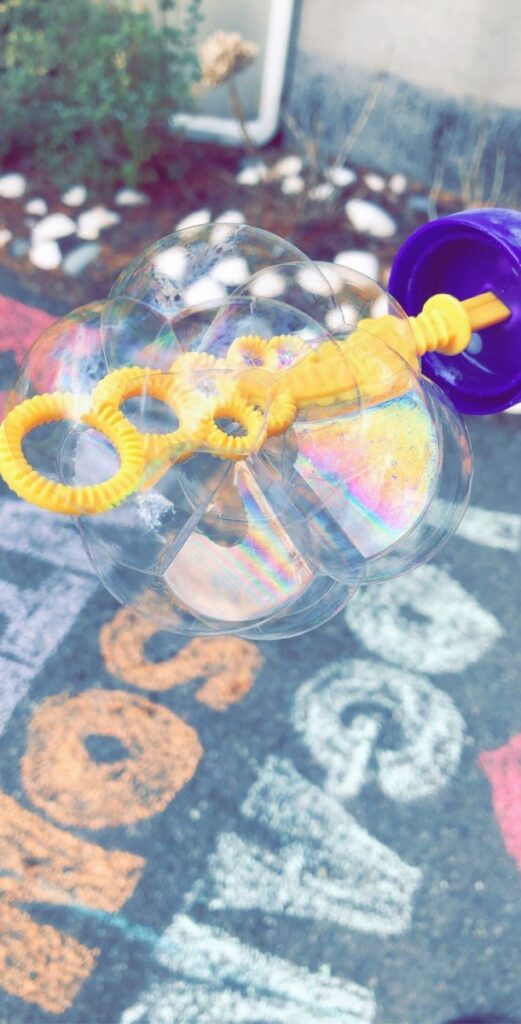 2nd place: Kiara Cerruti
Building Blocks: Relationships; Safe, Stable, and Equitable Environments; Engagement; Emotional Growth
Description: This photo was taken during the pandemic. My family and I were looking for ways to get out of the house and do something fun and social together. We first had some fun with chalk, drawing everyone's names and their favorite things. Then we found some bubbles and became intrigued by the different shapes and colors formed. This connects to all 4 Building Blocks of Hope. This activity brought us together as a family. We used our relationships to draw about each other, which connected us in a safe and positive home environment, while we collaborated in several art projects.
"This image is a creative blend of contexts, with sharp focus of bubbles in the foreground and less focused chalk drawings in the background. The image successfully incorporates all 4 HOPE building blocks. Nice job!" –Emory Petrack, Contest Judge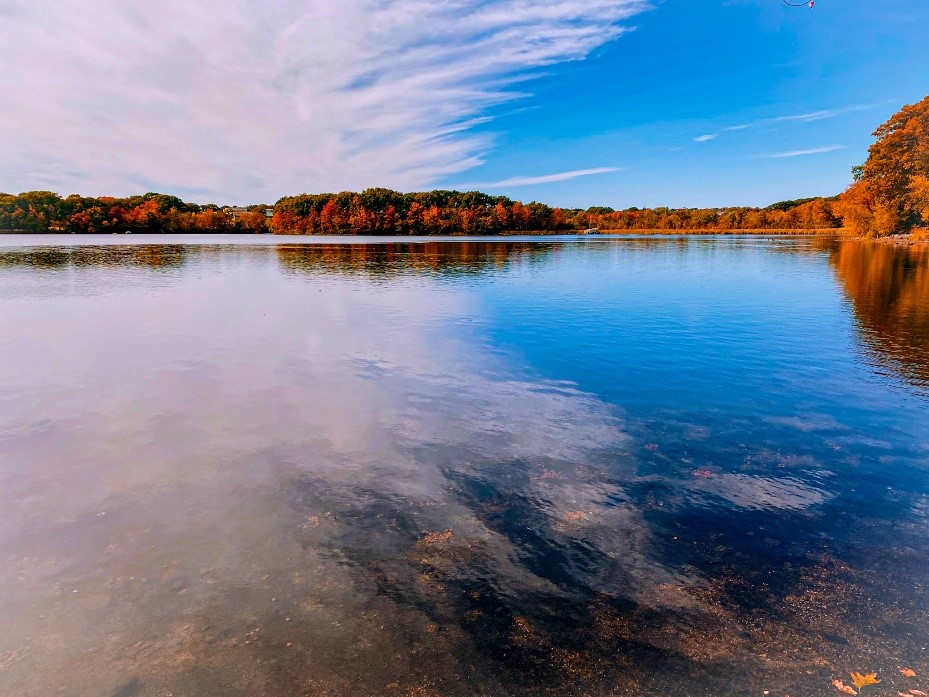 3rd place (tie): Trisha Bhattacharya
Building Blocks: Relationships
Description: Every Sunday morning I work a shift as a lifeguard and usually by the end I'm famished. So when my dad would pick me up he'll treat me to something to eat. On this particular Sunday, he thought it would be nice to enjoy our shakes by the beach of the lake he used to bring me to when I was younger. This photo represents the relationship I have with my dad and the memories we make together to foster our relationship. COVID can life unmanageable which makes it immensely important to lean on the people in your life.
"This image draws the viewer in – from the two shadows near the shore, through the bright blue sweeps of sky and water and lighter sweeps of clouds and reflections. What a beautiful and evocative image of the Relationships Building Block." –Dr. Bob Sege, HOPE National Resource Center Director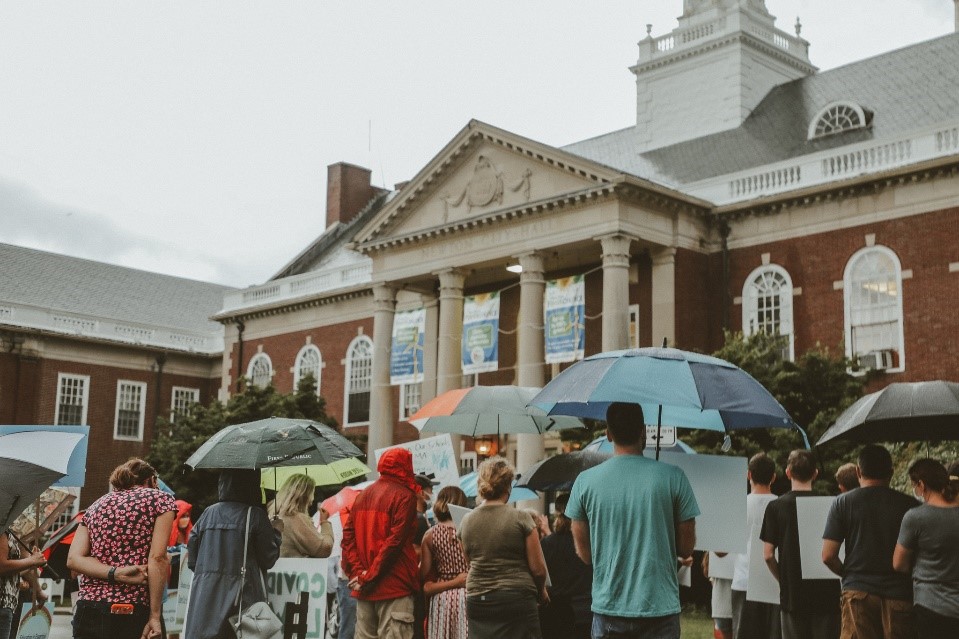 3rd place (tie): Chunyu He
Building Blocks: Engagement
Description: The global pandemic exposed many urgent issues in our society that have been neglected for a long period of time. Equity in education being a part of the many issues was prominent in the city I reside in. The photo captured protestors fighting for a more equitable plan to reopen the school when the old plan misrepresented many people.
"This is a beautiful depiction of HOPE Building Block #3, Engagement. The image of a group of people gathered together in bad weather in front of a government building to fight for improvements in community if very moving. Nice job." –Dina Burstein, MD