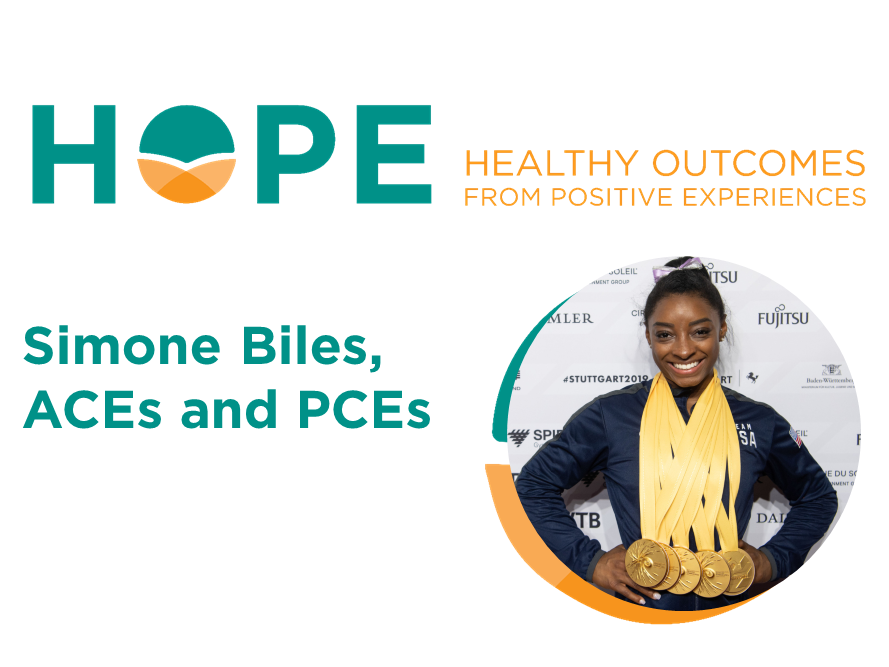 By the HOPE Team
Like so many people, we spent part of the weekend transfixed by the 2021 Tokyo Olympics. Despite COVID, no crowds, and troubles with the Tokyo organizing committee, the athletes dazzled us with their speed, endurance and grace. In particular, Simone Biles seems superhuman – a woman who seems to defy gravity and performs gymnastic feats that had been thought to be impossible. She wears her past on her body and outfit: her collarbone bears a tattoo with a quote from Maya Angelou: "and still I rise;" her leotards are bedazzled.
Her story offers profound illustrations of HOPE: ACEs, PCEs, and resilience. The New York Times published an insightful article about her life on Sunday July 25th. From the lens of HOPE, here is what we learned:
She has a high ACEs score. Her mother had a severe substance use problem. Simone suffered from food insecurity. Her home life was disrupted when she was placed in foster care. She was sexually abused as a teenager. This is her public story; there may well have been other issues growing up.
She also had several significant positive childhood experiences. At age four, she was adopted by her maternal grandparents, and experienced strong relationships with them and her stepbrother. Her family stood by her through the difficult time of adoption. She felt supported by her friends, in particular she and the other elite women gymnasts. She had many people – her coaches, for example – who believed in her. She seems to have felt safe and protected in her home; she called her grandparents mom and dad.
Thinking about the four building blocks of HOPE: she has strong relationships, is engaged in her community (well beyond her sport), she found a safe and equitable environment in which to grow up. Somehow, despite the sacrifices she made for her training, she has clearly had opportunities for emotional growth.
The surprising announcement yesterday that she was withdrawing from the team competition due to concerns about her mental health further illustrate her amazing strength. The pressure she likely feels at the Olympics is completely unimaginable to the vast majority of people and not an easy weight to carry on one's shoulders. Her ability to acknowledge that she was not in a good place mentally and emotionally, choose not to place her physical wellbeing in jeopardy by trying to execute extraordinarily difficult routines, and instead care for herself – while millions watch – shows her extraordinary courage. Watching her at the Olympics, and reading about her, reinforces our respect for the extraordinary human capacity for resilience. We look forward to learning about her next stage in life, as she continues to speak out about injustices, diversify a formerly all-White sports by setting an example for other girls of color, and whatever else she decides to do.
Photo credit: Marijan Murat – Picture Alliance/Getty Images