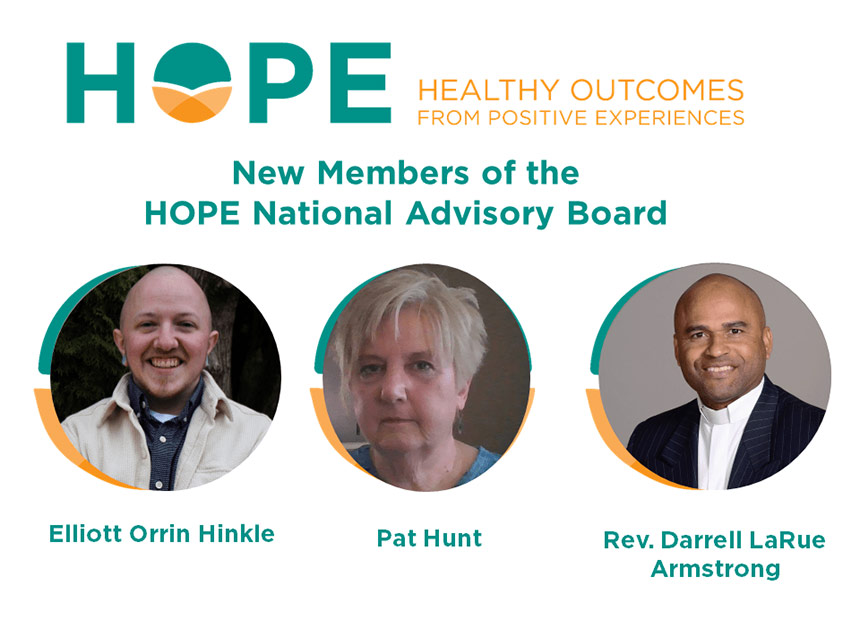 On Monday, November 1st, HOPE held its first National Advisory Board meeting for the 2021-2022 cycle. Lexie Beck from Youth MOVE Nevada joined us to talk about youth engagement and the importance of including youth in decision making. We brainstormed ideas about our annual work plan and topics to learn about together. Later, the team from Root Cause led breakout groups to discuss what being HOPE-informed looks like in practice. We also welcomed our newest members, Elliott Orrin Hinkle, Pat Hunt, and Rev. Darrell LaRue Armstrong who have introduced themselves below.
Elliott Orrin Hinkle (they/them) is a skilled facilitator, trainer, advisor, and consultant focused on elevating lived expertise in systems that serve children, youth, and families. They are a graduate of Portland State University with a Bachelor of Science degree in Women, Gender, Sexuality, and Queer studies. Elliott has lived experience in the Wyoming Foster Care System as a young person but calls Oregon home. As an advocate and professional they bring 10 years' experience on topics such as Child Welfare, Youth Mental Health, and the LGBTQ community through training, advising, and facilitating culture change efforts aimed at increasing positive experiences for youth impacted by systems. They have assisted and participated in child welfare and youth mental health research and they actively work to reduce barriers to access to care for LGBTQ youth and families and are trained in evidence-based peer coaching. Elliott currently serves as the Principal and Founder of their consultation firm, Unicorn Solutions LLC.
Pat Hunt is the executive director of FREDLA, the national Family Run Executive Director Leadership Association. Along with her lived experience as a parent, Pat brings over 25 years of experiences as an advocate for children with behavioral health needs and their caregivers. During this time, she had extensive experience overseeing both federal and state grants and served as the founding director of a family-run organization. She previously held a corporate leadership position in a managed care organization and served as a conduit for local grassroots experience to inform national policy decisions at the Federation of Families for Children's Mental Health. Pat has provided technical assistance in 42 states regarding policy issues that affect children's behavioral health
The Rev. Darrell LaRue Armstrong has served as the Pastor of the Shiloh Baptist Church for the last 21-years. From 2006-2009, he served as the first Director of the Division of Child Abuse Prevention in the newly created NJ-Dept. of Children and Families. His visionary leadership has propelled Shiloh to create a "Spiritual Family Empowerment Zone," a large-scale neighborhood revitalization and community development effort which projects $50M in urban investments. The Rev. Armstrong's policy training at Stanford University, theological training at Princeton Theological Seminary, and therapeutic and clinical training at the College of New Jersey, have uniquely situated him as a respected voice and leader in the national and international child welfare and family strengthening communities.