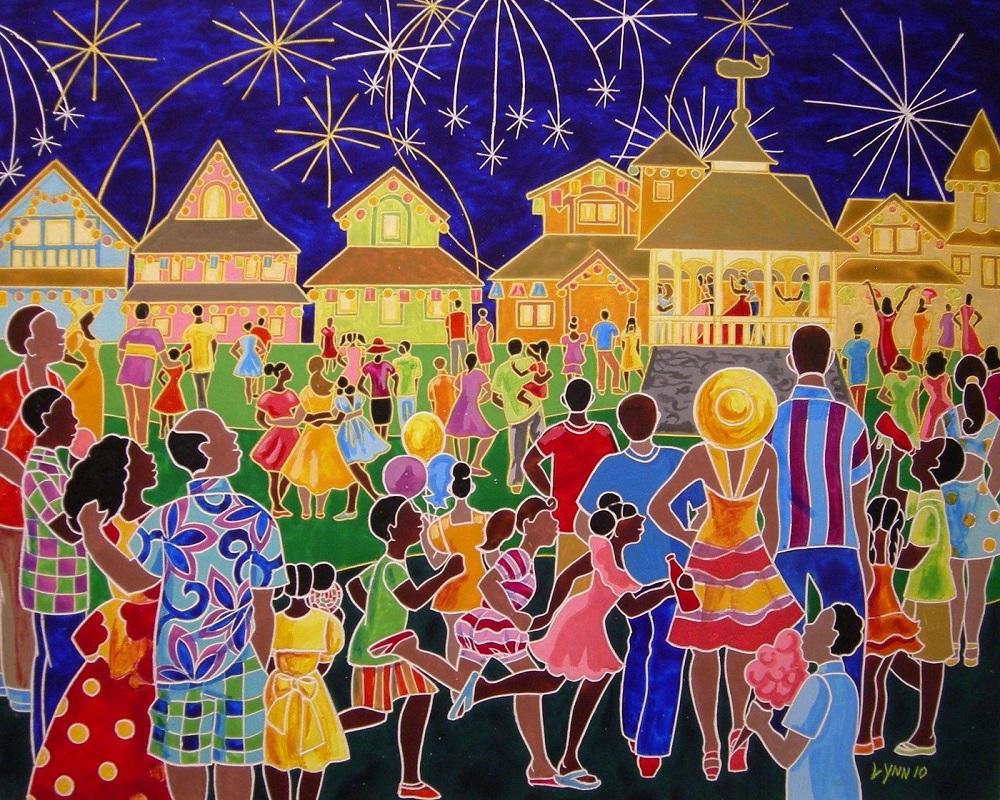 By Chloe Yang, Dr. Robert Sege, and Dr. Dina Burstein. The art above is "Fireworks At Oak Bluffs," scratchboard, by Sonia Lynn Sadler.
Only 154 years ago today, the last enslaved people in the United States were told they were free, two and a half years after the Emancipation Proclamation. On June 19, 1865, Major General Gordon Granger issued the following order in Galveston, Texas:
"The people of Texas are informed that, in accordance with a proclamation from the Executive of the United States, all slaves are free. This involves an absolute equality of personal rights and rights of property between former masters and slaves, and the connection heretofore existing between them becomes that between employer and hired labor." –General Order Number 3
Although enslaved people were symbolically freed on Juneteenth, we are all still waiting for "absolute equality." The recent police murders of Rayshard Brooks, George Floyd, Breonna Taylor, Tony McDade, and many others are only recent examples of systemic racism, entrenched in all sectors of our society. HOPE, along with Tufts University, will take this day for reflection, commitment, and action for racial justice. We pledge to maintain an anti-racist philosophy in our work, and we will continue to reflect and act beyond Juneteenth. Now and always, it is all of our responsibilities to hold ourselves and our institutions accountable, establish standards of relational-based practices with parents and families, and maintain a sense of urgency, as we seek to understand the root causes of and dismantle all forms of racism. Only then can we secure all children's access to positive relationships, safe and equitable environments, and long, healthy lives.
For more writings on HOPE, health equity, and our solidarity with Black Lives Matter:
More information about Juneteenth: