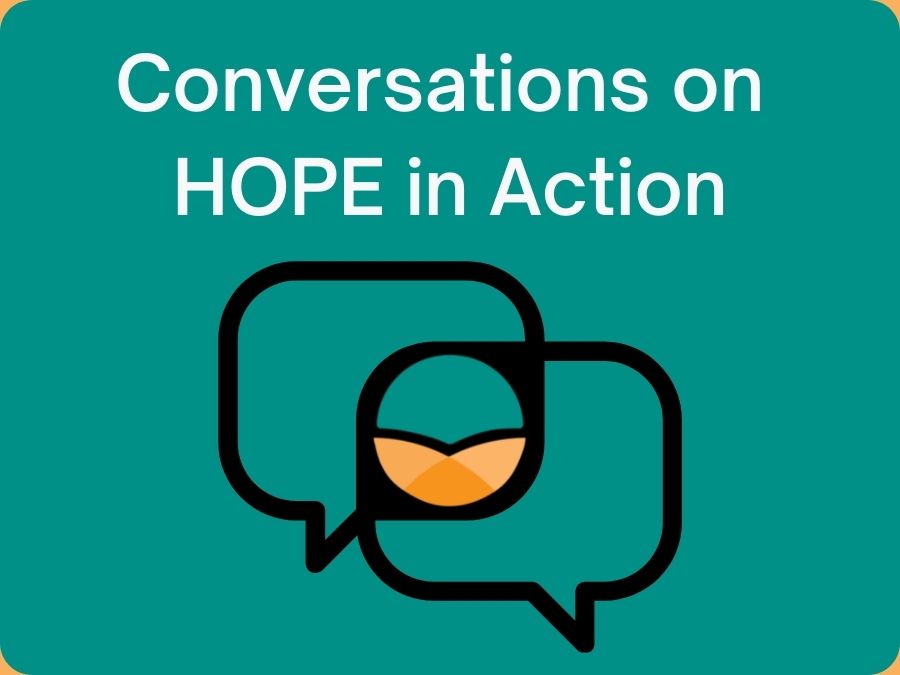 Aimee Zeitz is the regional director of strategic advancement at the YMCA San Diego County. She and her team have been implementing the HOPE framework into their practice and organizational structure. Aimee was a member of the first cohort of the HOPE Innovation Network and has worked closely with the HOPE National Resource Center on many projects. Below Aimee shares the strengths, barriers, and successes to her HOPE implementation.
What are you currently doing to practice and implement the HOPE framework into the work you do at the YMCA San Diego?
We have integrated HOPE, not just at the YMCA but also with our community partners and in the ways we think about service delivery; really grounding that service delivery in responsive relationships. For context, at the YMCA in San Diego County, we have been doing work for the past four years around changing our service delivery approach, grounded in the Strengthening Families framework and mindful of the protective factors that we know influence a child's and family's wellbeing. When we had the opportunity to meet with Dr. Sege and the HOPE team to learn more about HOPE, we realized that it complemented the work that we were doing already, and it really helped bring the practice to life in a new and different way. Since then, we have been integrating HOPE into the all-staff trainings we do once a year. We follow this training up with reflection and action planning sessions to really move beyond just a one-and-done training. We take the time to reflect on the implications of shared learnings, and implications for our programs, policies, and practices.
The other way we bring HOPE to practice is through our cross-sector partnerships. We both lead and participate in collective impact efforts here in San Diego. I'll share just one example. In California over the past couple of years, there has been a focus on increasing awareness of adverse childhood experiences (ACEs), and pediatricians are now reimbursed to conduct ACES screenings in well child visits. One early challenge was a mindset of thinking of ACEs as determinants, the idea that if a child or caregiver has an ACEs score of 4 or more that they must need something or the assumption of a deficit in the family. The HOPE framework has allowed our health and social service providers to consider positive childhood experience (PCEs) along with ACES to really hold a more comprehensive understanding of what children and families are experiencing, as well as partnering with them to identify what they want and need
We know that changing practice is not easy, did you face any barriers during the process and, if so, how did you overcome them?
The first is within our organization, where we had started our journey with the Strengthening Families framework. We wanted to make sure we did not contribute to "change fatigue" by introducing yet another framework, so we integrated HOPE principles as examples of what Strengthening Families could like in in everyday practice. Oftentimes it is not enough to just hear the information to adopt a new approach, so we followed it up with reflection sessions. We engaged with teams and leaders starting with recognizing existing strengths. When we rolled out the HOPE trainings, we paused and together we discussed; "Of these principles, what are you already doing well?", "What is already happening, either within the way you deliver your program, your individual engagement practices, or the policies of your department?" Through this modeling, it was easier for staff to then use that strengths-based practice when they have experienced it themselves. It is about really slowing down and modeling the practices we are hoping to inspire.
Can you tell us how your HOPE implementation has been received by your community?
Our partners are so interested in HOPE; it just makes so much sense. It feels like the next evolution of ACEs here in San Diego. It might sound silly, but it is like providing hope through HOPE. In our community, we are very collaborative with dynamic cross sector relationships and networks. HOPE has been this very natural place for us to deepen our shared alignment around best practices.