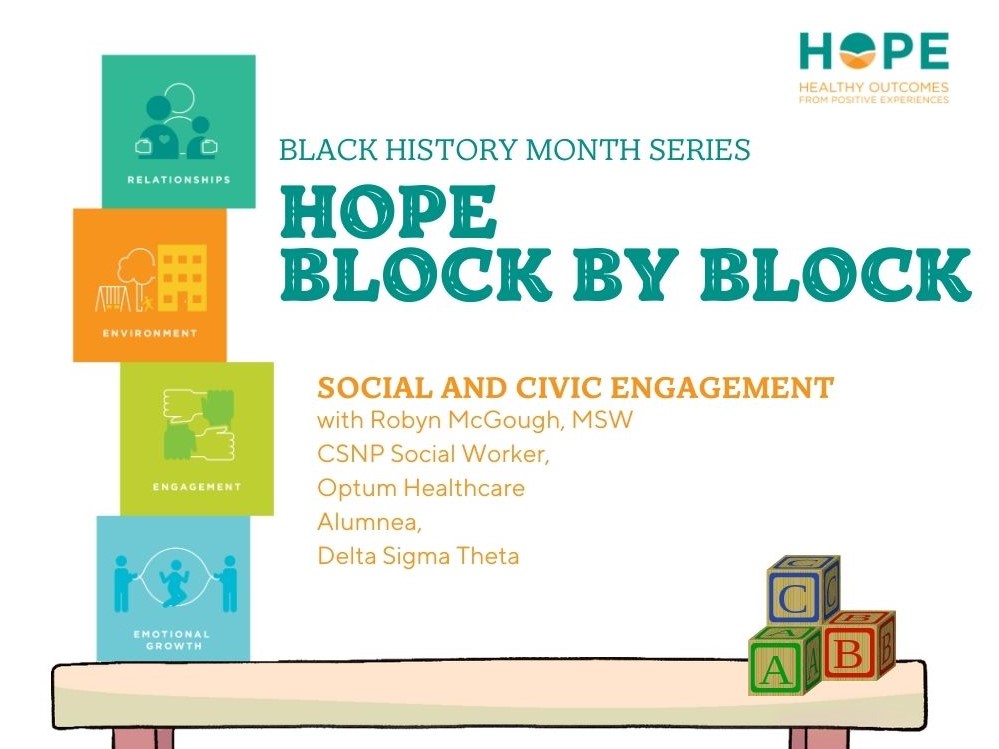 Robyn McGough, MSW, joins HOPE's Director of Training and Technical Assistance, Amanda Winn, for the fourth vlog in our new series, HOPE Block by Block. This series highlights the work of Black practitioners, scholars, researchers, and community activists during the month of February. In this fourth episode, Robyn will address the HOPE building block of social and civic engagement. The engagement building block is about children participating in activities that make them feel connected to their communities and develop a "sense of mattering" and belonging.
Robyn McGough is a Medical Social Worker at Optum Healthcare and a proud member of the Delta Sigma Theta Sorority, Inc. Delta Sigma Theta, Inc. is one of nine historically Black fraternities and sororities known as the Divine Nine. In the vlog below, Robyn shares the ways that Greek organizations, like Delta Sigma Theta, work to engage Black youth in community service projects, build a strong sense of community and belonging, and promote intergenerational connections.
The HOPE National Resource Center believes that Black history is American history, and we are honored to have Robyn McGough join us in recognizing the contributions of this community. Celebrating Black history is relevant to all four Building Blocks of HOPE, and our February vlogs share ways for organizations and communities to promote access to the Building Blocks of HOPE for Black and African American families throughout the year. Although we are focusing on Black history during February, we will continue to acknowledge and honor Black history all year long.