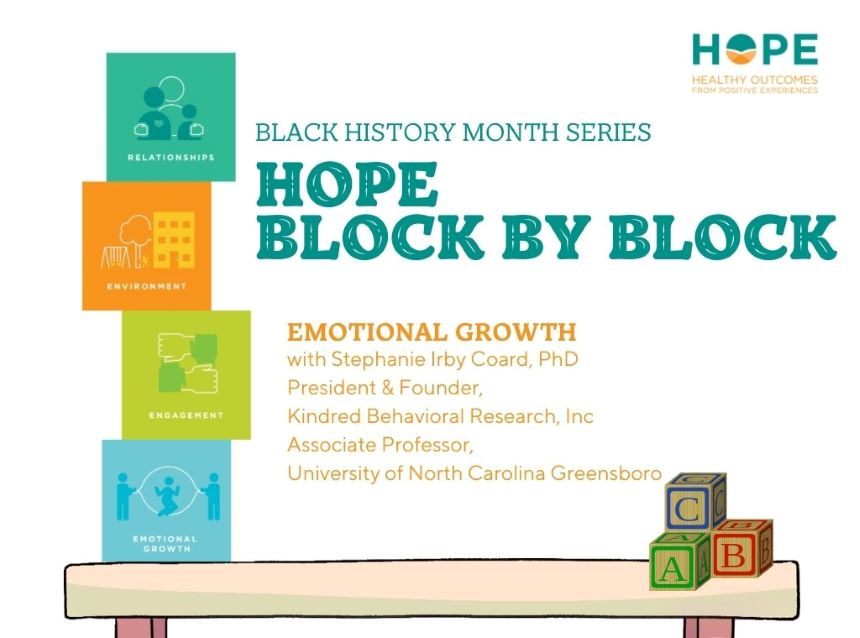 Dr. Stephanie Irby Coard, joins HOPE's Director of Training and Technical Assistance, Amanda Winn, for the first vlog in our new series, HOPE Block by Block. We are kicking off our series by highlighting the impactful work of Black practitioners, scholars, researchers, and community activists during the month of February. In this first episode, Dr. Coard will address the building block of emotional growth, which is practiced through children playing and interacting with peers and adults for self-awareness and self-regulation.
Stephanie Irby Coard, PhD, is an Associate Professor of Human Development and Family Studies at the University of North Carolina Greensboro, where she examines racial, ethnic, and cultural influences on youth development and family functioning and the development and implementation of culturally relevant evidence-based practices focused on African American families and communities. Dr. Coard is also Founder and President of Kindred Behavior Research, where she bridges science and culture to promote mental health and well-being among children, families, and communities of color.
Dr. Coard is creator of the Black Parenting Strengths and Strategies (BPSS) series.  BPSS is an evidenced-based program that aims to promote cultural, social, and behavioral health among African American families. The BPSS program has been developed to incorporate the most successful strategies used by parenting and child development specialists, while drawing on the strengths, unique parental strategies, and processes inherent in African American families (e.g., racial socialization). BPSS programs are: BPSS Assist to Resist, BPSS Child, BPSS Parent and BPSS- Racialized Short.
Dr. Coard also helped produce a video series called One Talk at a Time, which helps parents talk to their children about race and ethnicity. In the video below, Dr. Stephanie Irby Coard shares her work in promoting the building block of emotional growth in communities of color through racial and ethnic socialization and the importance of this work for all individuals, children, and families.
The HOPE National Resource Center believes that Black history is American history, and we are honored to have Dr. Coard join us in recognizing the contributions of this community. Celebrating Black history and contributions is relevant to all the four Building Blocks of HOPE, and our February vlogs will share impactful ways for organizations and communities to promote access to the Building Blocks of HOPE for Black and African American families throughout the year. Although we are focusing on Black history and contributions during February, we will continue to acknowledge and honor Black history all year long.