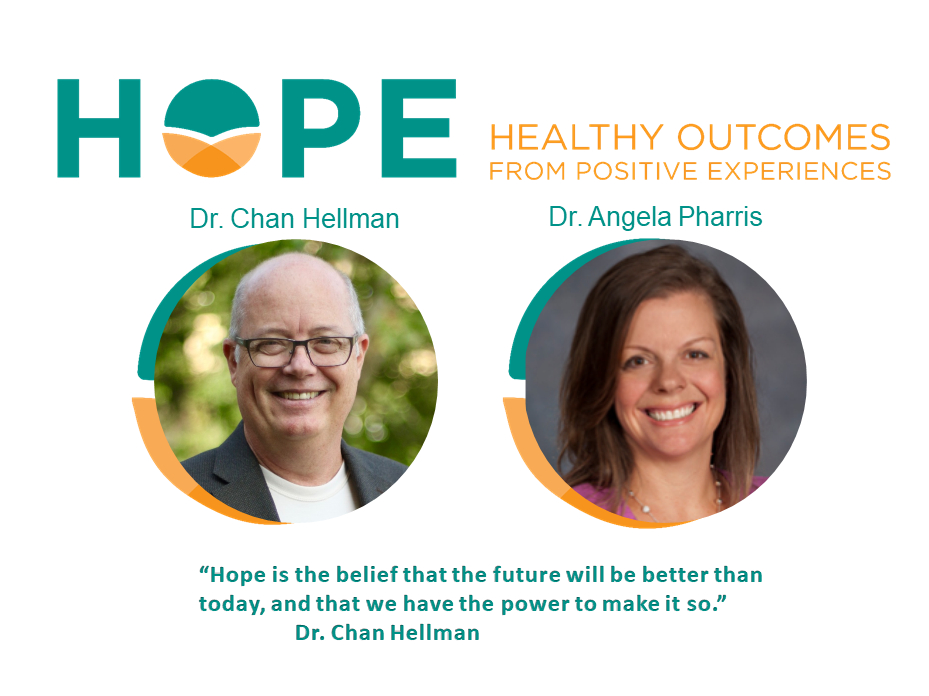 Last month, Jane Stevens, founder and publisher of PACEs Connection introduced us to the Hope Research Center at the University of Oklahoma. We had a fascinating hour-long call with director Dr. Chan Hellman and his team.  They have learned how hope itself promotes resilience and well-being, and their work on the cognitive process of hope aligns well with our work on HOPE – Healthy Outcomes from Positive Experiences.  In order to share the excitement of that call with everyone else, we interviewed Drs. Chan Hellman and Angela Pharris for this blog.
 Please introduce yourselves and your work to our readers.
Chan Hellman (CH): I'm Chan Hellman, and I'm a professor at the University of Oklahoma in the Anne and Henry Zarrow School of Social Work, and the director of the Hope Research Center.
Angela Pharris (AP): I am Angela Pharris, and I am a research fellow in the Hope Research Center.
CH: For the last 20 years, we have been focused on measuring outcomes and impact of program services responding to families experiencing crisis. About 12 years ago, I was introduced to this idea of 'hope'. It was really an interaction that I had with an individual who was experiencing a lot of adversity. As he was sharing his story with me, I kept looking for those things that must be wrong with him—depression, anxiety, etc. Interestingly enough, he did not display any of that. He started to talk about his future goals of going to college. It struck me in that moment that as a psychologist, I had spent my career focused on what is wrong with people, and [he] helped me understand that we should be focused also on strengths. What we've learned is that hope, as a psychological strength and coping resource, allows individuals to move through the adversity in their life, but also to potentially overcome that adversity. That is really the focus of the Hope Research Center, to understand how childhood trauma and adversity rob us of our capacity for hope, and how program services in the communities can nurture and restore hope for children and families.
What needs do the Hope Theory meet, and how did you develop this idea?
CH: As people became more and more familiar with that robust body of science [surrounding adverse childhood experiences], the immediate question was always, 'What do we do about that? How do we respond in our organizations and communities?' Hope is the organizing framework that allow organizations, providers, communities to respond to adversity with the specific intention of enhancing the well-being and the capacity to thrive of children and families.
'Hope' is the belief that the future will be better than today, and that we have the power to make it so. Hope is a cognitive process. It is not an emotional framework. As hope is a way of thinking, we know that it is something that can be taught. For us, hope is comprised of three basic ideas. The first is that each of us are goal-driven. Now, what's important in that framework is to identify, think about, and strategize how we're going to pursue those goals, referred to as 'pathways thinking.' Pathways thinking also includes our ability to identify barriers, and to [problem-solve]. And then the final piece is agency, which is our ability to focus our mental energy and efforts. So, for us, 'hope' is about goals, pathways, willpower.
AP: I think one of the challenges that still exists with Adverse Childhood Experiences or ACEs is that there is a community sense that we need to address this.  We need a unifying language if we're going to be able to be effective, and it has to work in a courtroom, in a doctor's office, in a classroom, in daycare centers. What we have worked on is not only the science, but how do we take what we've learned and turn it into something that communities can use to implement effective interventions and change?
What interested you in the Healthy Outcomes from Positive Experiences (HOPE) Framework?
CH: The thing that really struck me was the common philosophy. Hope is typically such an individual framework, but what we've learned in this research is that the power is really in the shared language that allows multi-disciplinary teams within communities to work closely together. We see each and every one of [the HOPE Building Blocks] as pathways or strategies to begin to nurture the psychological context of hope.
There's a growing discontent around resilience, because it has so many diverse meanings. Our research is finding that hope is the mindset that drives those resilient behaviors. Looking at Healthy Outcomes from Positive Experiences as a set of strategies, and a framework by which to nurture hope, allows individuals and families to begin to engage in strategies that are associated with their ability to adapt and potentially overcome adversity. For us, hope is the process, and well-being is always the outcome. Hope allows us to overcome our adversities, but equally important, allows us to live well within our adversities, because we can't always escape those.
AP: The best description of [the services that address trauma] is that they're pathways to hope. That's why you go to parenting classes today, right? That's why you check yourself into recovery today, is because [you're] pursuing a better future. It's the single best description of what they already do, but it gives a way for them to see it and talk about it in ways that are easy to understand.
I'm as confident you can teach [hope] and nurture this as readily as we can teach children how to add two plus two. It's not really complicated, it doesn't require therapeutic interventions. This is a set of skills that a foster parent can use. An entire art class in an elementary [school] can be focused on drawing images of the future and hope, and through that, can constantly be nurturing the well-being of children. But we have to help folks be intentional about it and be explicit. We do hope a lot in our work, but we don't always say it very well to one another. So the common language is also about intentionality.
Tell us about your community work and the ways this theory has been put into practice.
CH: We are deeply imbedded within the Oklahoma Department of Human Services, the largest state agency in Oklahoma that touches over 1.4 million Oklahomans daily.
AP: Each of the divisions have taken from their training, [and] a team has said, 'What are the changes that we can make to be very intentional about using hope?' There's more ways that they can meet the needs of the client, because they're oriented toward their well-being and future differently.
One of my favorite projects is for youth in foster care. We worked with their team to redesign an assessment that has been historically driven on making sure youth have certain life skills for adulthood. We've anchored that hope is the life skill that young people need. The assessment tool gives young people a chance to talk about, 'What is the future that I want, and how do I get there?' It's moving away from the child welfare goals that are important, but may not be the most important thing for the young person.
We have always taught teenagers things like budgeting skills. What I think we may have been doing sometimes is communicated to young people, 'You need to learn how to keep a budget, because without it, tragedy's going to come.' We miss opportunities to say, 'I want you to learn how to do a budget because you're smart and capable, and I want you to make sure that your money goes to meeting your goals.' It's all the same kinds of steps, it's all the same work, but the conversation that they have about it becomes fundamentally different.
CH: In Mississippi, all 1,200 members of the family court system for the entire state, all 82 counties, have now been trained in the science of hope. That is also in cooperation with their supreme court, so it's a high level, system wide focus. The state of Washington is engaging in the same process. What we've taught them is that their [individual service or case] plans are not the goals, they're the pathways to [the family's] goals [of reunification and healthy relationships]. How do we as a court system collaborate with parents to find those pathways to ensure well-being for those families? The first lady for the state of Oklahoma has [also] made 'Hope Rising' her platform, so we are now [working] across the state of Oklahoma to integrate this language and science community wide.
Is there anything else that we haven't asked about that you'd like to mention?
CH: For me, when I think about hope, I think about its power at [many levels]. It is that organizing framework for our communities. It has direct application[s] at every level that will help families live life well.
AP: All of this is evidence-informed. The robust research came first. We might be one of the few that are studying it in the faces of adversity and ACEs, but there's other scholars around the globe that study hope. Now we're just working to tell the story of the science and make it usable in communities and families.
---
For more information on the Hope Research Center at the University of Oklahoma: