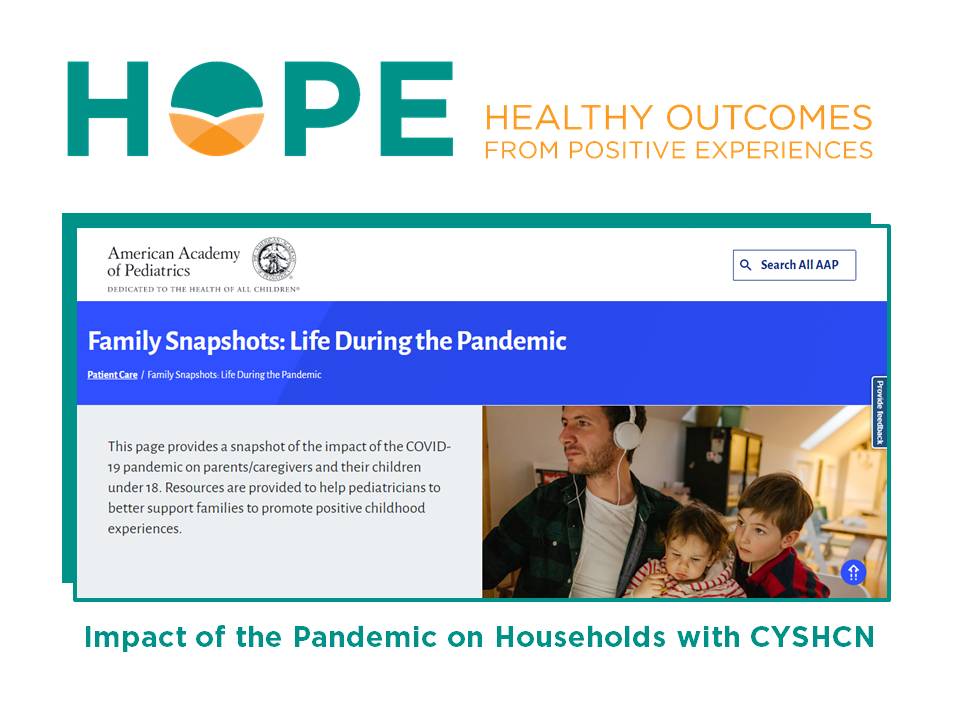 Last week, the American Academy of Pediatrics released the fifth snapshot in the Family Snapshots: Life during the Pandemic series. In past blogs, we discussed the results of the survey that the HOPE team, in collaboration with the American Academy of Pediatrics, Prevent Child Abuse America, and the CDC (Centers for Disease Control and Prevention), conducted using the national online platform YouGov.com. This survey asked a national sample of 9,000 parents and caregivers about their experiences with their children during the COVID-19 pandemic at three time points. This snapshot highlights the experiences of families with children and youth with special health care needs (CYSHCN) during the COVID-19 pandemic.
This survey identified extraordinary strengths in these families, despite high levels of stress brought on by the pandemic. Just like other families, parents and caregivers of children with special health care needs reported enjoying positive experiences with their children during COVID. In fact, 71% of these parents felt they had grown quite close or extremely close to their children since the start of the pandemic.
What make this more remarkable is that households with CYSHCN reported experiencing more disruption (92% vs 74%) than households without. The disruptions included child care, health care, employment, and technological or therapeutic supports. Parents or caregivers with CYSHCN experienced higher percentages of canceled medical or dental appointments than households without CYSHCN (45% vs 25%); these families also faced greater inability to receive free or reduced cost meals at school (18% vs 9%) and needed to provide supports to their children without the support of trained providers. Recognizing the burden of this stress, many families sought mental health support or social work services.
However, care came at a price for many families. Adults from households with CYSHCN reported lay-offs, furloughs, and reduced work hours at a higher rate than other families (61% vs 46%). As schools re-open and services are restored, these families may face ongoing challenges left over from the 2020-21 school year.