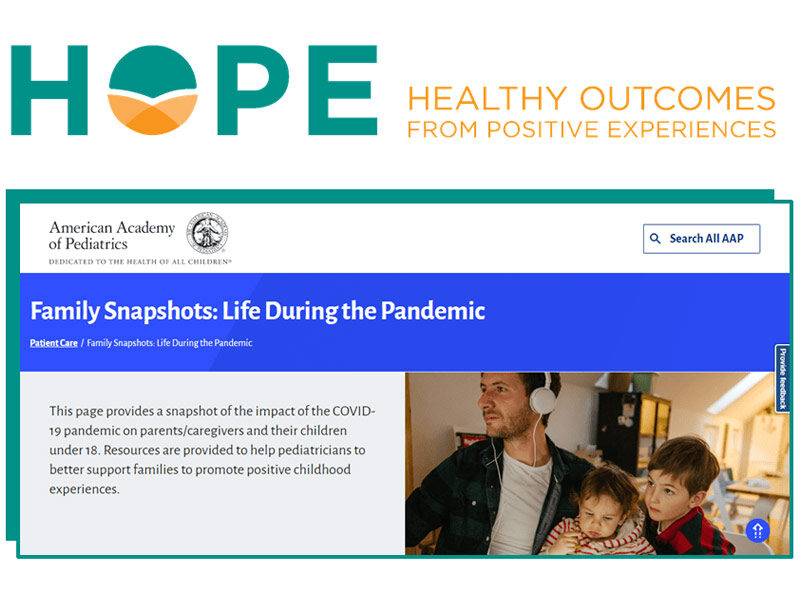 On October 15th, the American Academy of Pediatrics released the sixth snapshot in the Family Snapshots: Life during the Pandemic series. This snapshot highlights parent and caregiver concerns about their children falling behind in school.
This is the latest in a series of articles about the results of a survey of 9000 US parents and caregivers that the HOPE team, in collaboration with the American Academy of Pediatrics, Prevent Child Abuse America, and the CDC (Centers for Disease Control and Prevention), conducted with yougov.com. The survey asked parents and caregivers about their experiences with their children during the COVID-19 pandemic at three time points.
During the pandemic, parents and caregivers were more involved in their children's school work than before. In an earlier blog, we noted that many parents and caregivers found helping their children with their school work was a positive experience. However, the transition to online learning caused more worry for some. Of those with at least moderate concerns about their children's school progress, 31% reported that helping with school had been positive as well as stressful. Establishing a new daily routine helped them feel more confident in their children's academic performance. No matter the level of parental stress about school, almost all families made sure to have fun with their children.  
School transitioned quickly to virtual learning early in the pandemic, changing family life overnight. The role of parents and caregivers in their children's school instantly became more active. They faced challenges with balancing work schedules or working from home with all of their existing and expanded responsibilities.
Half (51%) of parents who shared they felt high levels of overall stress were more likely to feel concerned that their children were falling behind in school. Household financial status, employment changes, and teleworking all contributed to feelings of concern about their children's school progress. One in five parents (20%) who initiated employment changes themselves reported concerns about their children falling behind. Another important point is that parents who reported high overall stress levels were more likely to also report concerns about their children's academic performance.
Keeping the four building blocks in mind when inquiring about parental views on children's education can help healthcare providers. They can find out how the parent-child relationship is, if they have time for family fun, what the home environment is like, what external stress factors the family may be facing. Increased engagement from parents in their children's school work can lead to success. And lastly, does the family have time to practice self-care for their emotional well-being.
Families have shown their resilience in this unprecedented time, and they are still having fun together no matter how much stress they are experiencing. Parents and caregivers are finding positive experiences when helping with school work and are establishing new routines. Overall, the study shows that families have many strengths to build upon and use when exploring ways to reduce stress in the home and to promote strong connections.