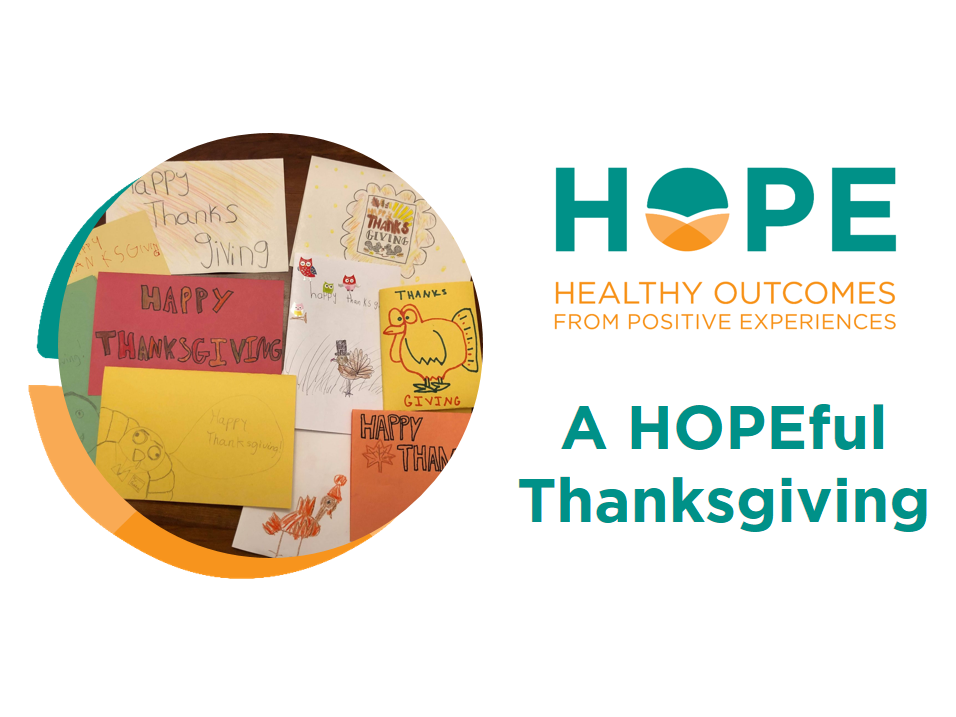 Thanksgiving in 2020 is proving to be very challenging for many families. The dangers of spreading Covid-19 to loved ones is keeping families apart, and many are facing significant economic challenges. Yet, we know families and children across the nation are finding ways to safely create positive experiences, too. To spotlight these efforts, the HOPE team sought out some stories of HOPE for this Thanksgiving, and we want to share them with you in this blog post. We hope these stories will bring you some inspiration and positivity during these challenging times.
Our first story comes from Dianna Shaw, who volunteers as a Meals on Wheels driver in suburban Rhode Island. Dianna wanted to do something special for the seniors on her delivery route, many of whom will spend Thanksgiving alone.
"I am a Meals on Wheels volunteer driver. I realized today as I was out delivering, that I am the last/only person my seniors will see the day before Thanksgiving. I would like to be able to give my 20 housebound seniors, almost all reporting that they will be alone on Thanksgiving, a token of kindness. Knowing that this group is made up of thoughtful community oriented people, many with kids, this is my request." In light of her realization, Dianna reached out to her community and crowdsourced Thanksgiving cards—whether they were homemade, crafted by children, or carefully selected at a store—for the seniors she serves.
Another inspirational story comes from Jane Knight, who wanted to do something special for our healthcare workers who have been going above and beyond during this pandemic. In a social media post, she wrote, "Are you a stressed out healthcare worker? I'd like to offer to bring you and/or your family prepared food once or twice a week. I like to cook big and I know I love and feel nourished getting food that someone else prepares."
Another contributor, who wishes to remain anonymous, very generously offered to share some of their Thanksgiving meal with others. "If anyone is stuck for Thanksgiving because you're home alone and don't want to make a whole meal, let me know and I'm happy to make up a to-go pack for you to pick up on my step. I am used to cooking for 20 and I'm only cooking for four this year, but I'm still making a lot of food. I'm happy to share it with people who could use a hand."
From the HOPE Team
We will end with some words from the HOPE team. First, Kay Johnson, consultant and member of the HOPE family, shared the following suggestions for self-care this Thanksgiving: "No matter the weather, get outside. Take a walk with family, friends, or neighbors (safe physical distancing and wearing your mask, of course). Or enjoy a quiet moment alone, away from the Zoom screen or stove. Be thankful, practice gratitude, and help yourself achieve healthy outcomes from a positive experience."
Dr. Robert Sege, Director of the HOPE National Resource Center, offered his reflections on this year of HOPE:
"This has been an amazing year for HOPE and each of us. As Thanksgiving approaches, here are just a few things that I will be thinking about.
Personally, I am thankful that I have been healthy during the pandemic, and able to find ways to be active (swimming outdoors) and creative (photo of the day) throughout. I am, as always, thankful for the love of my family, and for the opportunity to welcome a new daughter-in-law in a joyful yet safe celebration. This morning, like many mornings, my wife and I rode our bikes through parks in downtown Boston. How could I not be thankful for our health, our relationship, nature, and the many and diverse families out and about, enjoying the day?
Professionally—wow! We have put together a national team of wonderful people whom I respect and love to work with. We have adapted to our new virtual environments seamlessly. We have had the honor of leading trainings for thousands of people throughout the United States, of learning from them, and of supporting Prevent Child Abuse America, the American Academy of Pediatrics, and Massachusetts Department of Public Health in starting new federally-funded efforts that support our missions. Our National Advisory Board has not only been engaged and supportive, but has also relentlessly challenged us to maintain a large vision of our work, to set it in an anti-racist and highly-focused strength-based context. The Tufts Medical Center administration has been flexible, creative, hardworking and effective in their support.
Finally, I am thankful to be part of a wonderfully diverse country. The Covid-19 pandemic, and the police murders of George Floyd, Breonna Taylor, Tony McDade, and countless others, have sparked a rise in civic engagement that will hopefully drive change as we move into 2021 with a new administration in power."
Thank you to our blog readers, to our workshop participants, to our National Advisory Board and collaborators. Though 2020 was challenging for families across the nation, the HOPE team is so thankful for everyone who has engaged with us this year, spreading positive experiences during a difficult time! We hope you stay safe, well, and socially-distanced this holiday season.